Alumna, adjunct Crissy Hinojosa named one of Corpus Christi's Top 40 Under 40
KINGSVILLE - February 10, 2014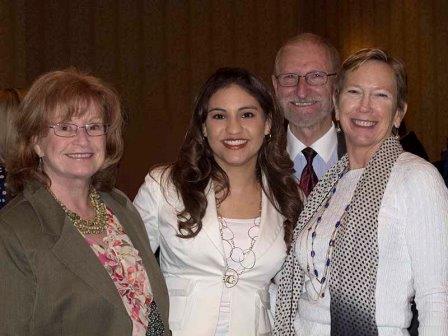 Crissy Hinojosa, Director of Business Intelligence for Bay Ltd. in Corpus Christi and adjunct lecturer in the College of Business Administration at Texas A&M University-Kingsville, was named one of Corpus Christi's Top 40 Under 40.
Hinojosa, a native of Falfurrias, also is an alumna of the university, earning her bachelor's degree in computer science with honors and her master's degree in business administration. In addition, she spent two years as a full-time lecturer in the information systems department and received the university's Non-Tenure Track Teaching Award. 
She is currently pursuing a doctorate in information systems at Nova Southeastern University. She also earned an Association to Advance Collegiate Schools of Business (AACSB) Professionally Qualified Certificate from George Mason University.
At Bay Ltd., she is responsible for collaborating with the company's multiple business units to institute technology solutions and streamline company-wide processes. Hinojosa was part of the leadership team that developed the award-winning Beyond Zero safety initiative program.
Prior to working at Bay Ltd., she was with Advanced Acoustic Concepts, an engineering firm that contracts for the United States Department of Defense.
She is a member of a number of professional organizations, including Project Management Institute, Institute of Electronic and Electrical Engineers and Association of Information Technology Professionals.
Hinojosa is an advocate for promoting math and science education to area youth and has spent much time volunteering with organizations that support women and children, including the Junior League of Corpus Christi and Spaulding for Children. 
About Corpus Christi Under 40
Corpus Christi Under 40 (CCU40) is an event honoring the accomplishments of men and women under 40 years old who have made significant contributions in their professional fields as well as through community service. 
CCU40 exists to honor the men and women dedicated to making a difference in Corpus Christi. Be it in education, health care or technology, it is those individuals with the perseverance and determination that create culture and opportunity for others in the community, according to CCU40.
-TAMUK-
This page was last updated on: February 10, 2014