Texas A&M-Kingsville theatre to host annual children's play
Jones Auditorium - 02/03/14 - 02/03/14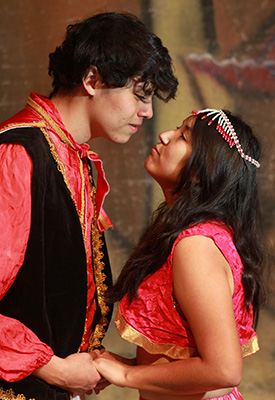 The art, communications and theatre (ACT) department at Texas A&M University-Kingsville will present their annual children's play Sunday, Feb. 2. A special public performance of this year's selection, Aladdin, will begin at 2 p.m. in Jones Auditorium. Admission is $1. 
Aladdin is a timeless tale of a boy who finds a genie in a lamp and discovers how that genie helps him solve all of his problems, or so he thinks. This play is a delight for all ages.
The play is being directed by Benito Latigo, recent graduate of the university. He is from Progreso.
Playing the part of Aladdin is Nickolas "Nicko" Villarreal, an electrical engineering major from Somerset. Isabel Perez, a criminology major from Austin, will play the Princess. Abba will be played by Jessica Cochran, a pre-med major from Skidmore. Charles "CJ" Lillie, an English major from Amarillo, will play Zorah.
The part of Dorhona will be played by Vanessa Valdez, a communication sciences and disorders major from Coppell. The Genie of the Lamp is played by Desiree Putnam, a psychology graduate student from Taft. Justice Henry, a history major from Palacios, plays Waizer.
Mother is played by Jennifer Sanchez, a history major from Edcouch. Bulmer is played by Chris Cuellar, a communications major from Mercedes. The part of Fremer will be played by Lauren Bunch, a communications major from Kingsville. Michael Garza, a biomedical science major from San Juan, will play the Sultan.
For more information, call 361-593-3401.
-TAMUK-
This page was last updated on: January 29, 2014