Caricaturista features work of Miguel Covarrubias
John E. Conner Museum - 10/28/13 - 10/28/13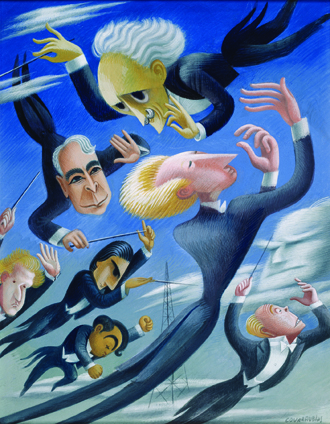 The first exhibit for the 2013-14 year at the John E. Conner Museum at Texas A&M University-Kingsville will be Miguel Covarrubias: Caricaturista, an exhibition created in cooperation with the Harry Ransom Center at the University of Texas and Humanities Texas, the state affiliate of the National Endowment for the Humanities. The exhibit opens Monday, Sept. 16, and continues through Monday, Oct. 28, as the Hispanic Heritage Month exhibit.
To kick off the exhibit and the beginning of Hispanic Heritage Month, the Conner Museum will host a "Merienda", or afternoon snack, from 3 to 6 p.m. Monday, Sept. 16, at the museum.
Miguel Covarrubias (1904-1957) was one of the foremost Mexican artists of the 20th century. A quintessential humanist, he made important contributions in the fields of anthropology, archaeology, theater and dance. He was an expert on indigenous Mexican culture and is perhaps best known for his colorful and insightful caricatures of the popular culture and political figures who dominated the American scene during the Jazz Age of the 1920s and 1930s.
The breadth of his intellectual interests inspired him to explore cultures as varied as the brilliant hues displayed in his art.
Miguel Covarrubias: Caricaturista is shown in 42 framed panels with five text panels in both English and Spanish. It focuses on the sophisticated caricatures that made him famous, providing a unique window into the culture and political milieu of the Jazz Age.
The Conner Museum is open from 9 a.m. to 5 p.m. Monday through Friday and 10 a.m. to 4 p.m. Saturday. It also is closed all university holidays. Admission to the museum and the exhibit is free, but donations are accepted. For more information, call 361-593-2810.
Humanities Texas develops and supports diverse programs across the state, including lectures, oral history projects, teacher institutes, traveling exhibitions and documentary films. For more information, please visit Humanities Texas online at http://www.humanitiestexas.org or call 512-440-1991.
-TAMUK-
This page was last updated on: September 11, 2013