Cheer
---
Javelina team spirit and tradition is a vital part of any  get involved, learn leadership college atmosphere. The Texas A&M University-Kingsville cheerleading program offers students the opportunity to skills, provide community service and promote support for the Javelinas. The cheerleaders perform at all intercollegiate basketball and football games, serve on campus spirit activities and offer community cheerleading campus in the summer. Tryouts for the cheer team are held in the spring semester in late March each year.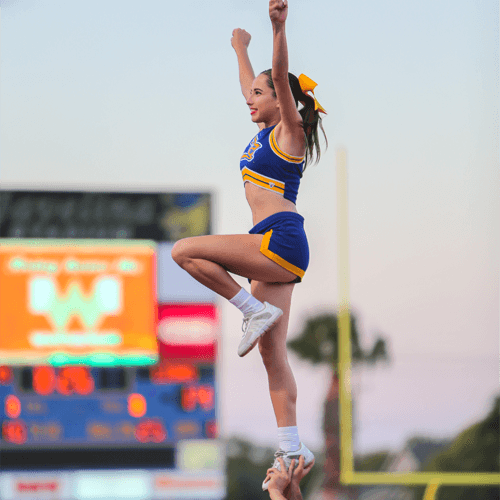 How to Get Recruited
Complete our Javelina Cheerleading Recruit Form
This form is for HS juniors, HS seniors, and current/transfer students. Completing this form creates your recruit profile for the coaches - the more information and videos you include the stronger the introduction.
Get Evaluated In-Person
All athletes interested in our program must be evaluated in-person before receiving an offer. Evaluations are performed by Coach Molly at clinics and additional events. Evaluations give the coaches the opportunity to meet you, see your skills, and how you work with the team.
UPCOMING DATES:
07/15/2023 - Javelina Cheer Summer Stunt & Cheer Clinic (more info here)
09/23/203 - Javelina Cheer Fall Stunt & Cheer Clinic (more info coming soon)
*We will update our website and social media (Instagram, Facebook) with additional dates to get recruited.*
ADDITIONAL INFORMATION
Verbal offers for 2024 – 2025 will go out beginning in Summer 2023 and athletes will sign onto the team in the spring (once they receive their university acceptance letter).
Transfer students are encouraged to follow the same recruitment steps. We will continue to offer roster spots in the spring until we fill our team.
Female Requirements: Tumbling – Standing Back handspring. Additional skills preferred.
Male Requirements: Stunting – Toss to hands. Elite stunting as a backspot or base. Tumbling is encouraged and additional skills preferred.
A traditional tryout process will only be hosted if there is a need to fill any remaining positions before the close of the spring semester.
Email Coach Molly at roach@tamuk.edu with questions.