Assessment
---
What is Assessment?
Assessment is a systematic and ongoing process of gathering, analyzing, and using data to improve student learning, educational and support services, and operational processes.
Who is Involved in Assessment at Texas A&M-Kingsville?
All academic programs, educational services, and administrative offices at Texas A&M-Kingsville identify expected outcomes and annually assess the extent to which outcomes are met. Assessment results are used to drive continuous improvement, ensuring the institution provides a high quality education while complying with the SACSCOC Principals of Accreditation. 
The Office of Institutional Research and Assessment coordinates many assessment processes, provides ongoing support through workshops and individualized sessions with faculty and staff, and regularly updates resources.
What Does the Assessment Process Look Like?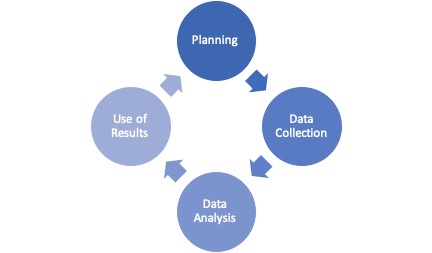 The assessment process includes four essential steps: 1) planning, 2)data collection, 3) data analysis, and 4) use of results for improvement. The diagram above highlights the continuous nature of the process.