When COVID-19 became the cause of canceled performances and in-person rehearsals, a Texas A&M University-Kingsville professor saw an opportunity.
Dr. Oscar Diaz, professor of Trombone at the School of Music, began bringing others into his virtual classroom with master classes.
A master class is a lesson where someone who is an expert at something such as music gives advice to a group of talented students.
"When COVID hit, I had more people virtually come in. I set up a bunch of master classes," Diaz said. "A lot of music faculty did the same thing.  We were just keeping the students motivated. It's been crazy, but some good things have been happening. There's always a silver lining."
Diaz said one of his goals was to have the master classes cover a variety of subjects to include audition etiquette and performance anxiety. "We had mouthpiece builders, band directors, performers," he said. "I was trying to do a balance of things to get them ready for when they graduate. Some are going to be band directors, some aren't." 
In the master class, the expert typically will give a lecture and then listen to students perform whom are given tips and advice while the rest of the class listens to the feedback.
"It kind of reinforces the things the professor already says," Diaz said. "Sometimes they hear this artist say the exact same thing I did and they say 'Oh, he was right.' It gives the students a different perspective or different way of doing it."
Diaz was also asked to lead several master classes virtually. From California to New York, he has spoken to students about how to be a good student and performer in an ensemble. He has also been invited to be an International Artist at the virtual International Festival Trombones de Costa Rica in July.
"I did a lot of master classes virtually, but I was truly humbled by the one at Julliard," Diaz said. "It's one of those bucket lists things that you don't expect to ever happen."
Joe Alessi, renowned professional trombone player and teacher at the Julliard School in New York, asked Diaz to talk to his students in a master class after he visited Texas A&M-Kingsville last year. Alessi was a guest artist at the School of Music's fourth annual Trombone Day in March 2020.
"As a young trombonist, I listened to him growing up and I've looked up to him. He's my hero," Diaz said. "When he was in Kingsville, he told me he wanted to come down here again and he was impressed with the students here."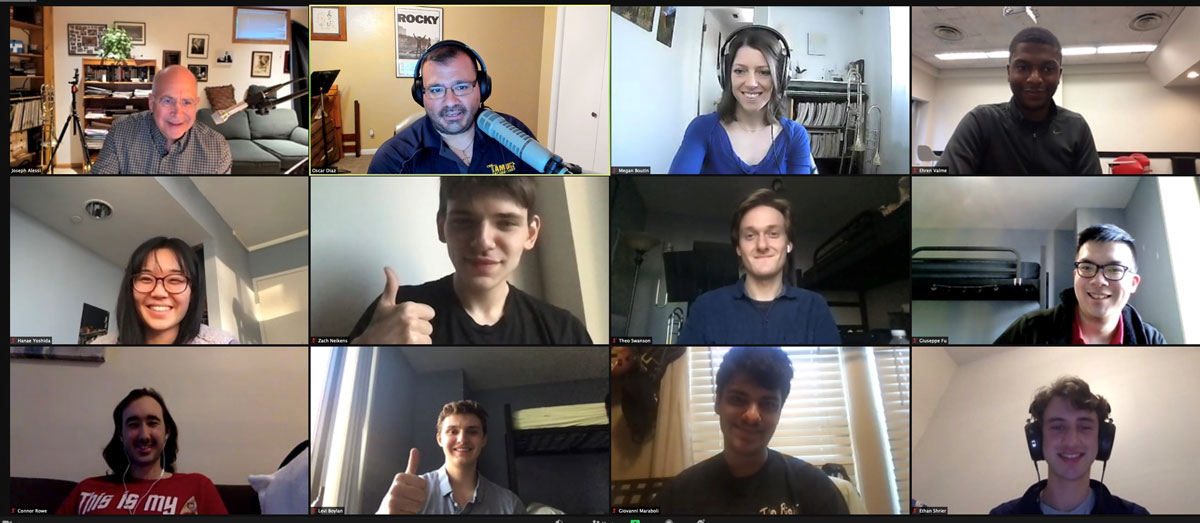 During the virtual master class in April, Diaz went through telling Alessi's students about his philosophies at A&M-Kingsville and how he holds students accountable. Diaz showed recordings of a trio involving his students to show the progression of their skill as freshmen to the time when they graduated.
"The faces of the students were priceless," Diaz said. "Students need a lot of help when they are freshman and the trio became fantastic players."
Diaz said it's been an honor to be asked to lead virtual master classes in different states such as his recent one for California State University, Fresno.  "A lot of these guys are from big cities and when they hear students from Kingsville, a small town, they are impressed by their hard work," Diaz said. "A lot of it has to do with the students. I have to thank the students."
Colleen Solis, 2019 graduate in music education, said having Diaz as a professor and mentor helped her obtain her degree. "I would have never made it through college without his constant support and encouragement. He has always believed in my musicianship and my teaching ability and I am forever grateful," Solis said.
"Dr. Diaz is truly one of the most humble, down to earth human beings that you could ever meet," she said. "He never limits you and he pushes you to not only do your best, but to be the best person that you can be. He does his best to make this university your home away from home. Dr. Diaz is more than just a professor, he's family. I would not be where I am without him."
Diaz and his trombone studio, which is assisted by adjunct professor Megan Boutin, have been putting A&M-Kingsville on the map.
Just this year, the trombone quartet "The Chulobones" was named a finalist in the International Trombone Association competition. They will compete live against two other trombone quartets at the International Trombone Festival (ITA) in Columbus, Georgia this July. 
Diaz said this isn't the first time students from the A&M-Kingsville Trombone Studio have placed or won in competition categories held by the ITA, but this the first time that members from the studio will be competing as a finalist for this particular category.
"This is a huge honor from them and our school. I have judged this category a couple of times and I know how competitive this category is. All the big music schools from all over the world submit recordings of their best students. Texas A&M-Kingsville is among the best of the best in the world," Diaz said.
"They want to work hard. They come from good band programs around here. I want to take them to the next level," Diaz said of his students. "In a nutshell, it doesn't matter where you come from. It matters on how hard you work, how much you want it and are you willing to go the extra mile to go where you want."