Texas A&M University-Kingsville staff members Jason Marton, assistant director of marketing, and Yolanda Ballard, assistant director of administration for the Caesar Kleberg Wildlife Research Institute, were named "Bringers of Light" by the campus group, Servants of Las Luminarias.
An anonymous collection of campus community members, the Servants of Las Luminarias select those that they feel are "bringers of the light of the knowledge of goodness to the Texas A&M University-Kingsville campus community." 
As honorees, Ballard and Marton each received a ceramic "luminaria," or large ornamental candle holder, a plant and a framed certificate of recognition. The certificate states that Ballard and Marton had, through word and deed, "selflessly and consistently shone the light of goodness into our midst." 
About Yolanda Ballard
Ballard first saw the flowers on her desk, then the luminaria and plaque. Her co-workers tried to understand how it had all been placed in the office without anyone getting caught. "I was surprised and excited to receive the award," Ballard said.  
"To the anonymous campus group, THANK YOU for a wonderful memory. I am honored and humbled." 
Ballard has worked at A&M-Kingsville for 32 years, and all of that time has been with the Caesar Kleberg Wildlife Research Institute (CKWRI). Ballard began as a part-time student worker, helping process a mass mail-out of annual reports; she would earn a B.B.A. in Marketing from then-Texas A&I University in 1985. After graduation, she earned a part-time secretary position, and went on a host of different positions at the institute, including Accounting Clerk, Word Processor Operator, Administrative Assistant and Office Manager, before being named Assistant Director-CKWRI Administration. 
"I enjoy working with the students and helping them navigate 'the system,'" Ballard said. "I also enjoy interacting with lots of people around campus. I especially like the diversity and challenges the job provides. You can have your day planned when you walk in the office and, in a matter of minutes, you may be headed in a totally different direction." 
The Freer native found more than a career at the CKWRI—she met her husband Dr. Bart Ballard there. Bart Ballard is a professor and the C. Berdon & Rolanette Lawrence Endowed Chair in Waterfowl Research. Yolanda describes Bart as her "best friend and partner for over 25 years." The two have a son, Derek, who is currently attending Iowa State University pursuing a master's degree in wildlife ecology. 
When asked what brightens her day, the Bringer of Light listed the following—"Working with a great group of people, especially the support staff of CKWRI. Helping someone who is having a bad day and hopefully making it better, even if it's something as simple as a smile or hello. Just choosing to be happy and positive each day."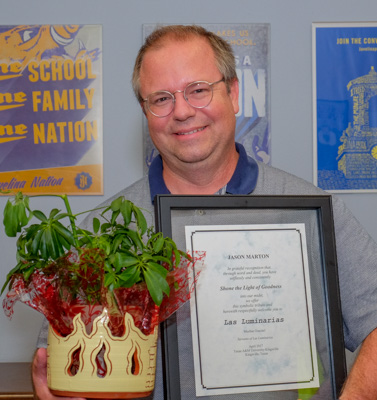 About Jason Marton
Marton knew all about the Bringer of Light award he found in his office one morning. "I've been lucky enough to write news releases for the last 14 years about the previous Bringer of Light winners, meeting some of the best people on campus in the process. I have a lot of respect for the award," he said. 
"Receiving it was…just an amazing surprise. I am terribly flattered and honored to be thought of in such a way." 
Marton first came to Texas A&M-Kingsville and its then-Office of Public Affairs in 2003. He left in 2008 for a few months to pursue some freelance opportunities, but came back to the university full-time in 2009 and has been here ever since. 
Prior to A&M-Kingsville, Marton was an announcer and program director at KEDT-FM, South Texas Public Radio in Corpus Christi. "The communication skills I earned there were a great fit for the university; it's been a bonus that A&M-Kingsville and KEDT-FM have joint projects I've been a part of through the years," he added. 
"The university's marketing office has offered such a wide range of opportunities, I feel like I've learned and grown a lot professionally. More than that, I truly enjoy the people I work with in my office and throughout campus," Marton said. "Texas A&M-Kingsville is filled with Bringers of Light. One of the biggest challenges has always been finding enough time in the day to share as much good news as possible about the campus and its people." 
Marton was born into a military family in San Antonio and raised in Aransas Pass. "I've lived in Rockport for the last 18 years raising my own family with my amazing wife Nicole. We have a son, Max, who's a year away from attending college and a daughter, Samantha, living and working in Austin. We have been blessed to have my parents and my wife's parents within 10 miles of us, so my kids have always had grandparents in their lives, and my wife and I have had our parents to share life experiences with, which is the best. 
"Life is all about people," Marton said.  "The loved ones in your life supersede everything else—I'll never own anything or spend time on any activity that means as much to me as my family and friends."
-TAMUK-