Citrus Center team members receive USDA Administrator's Award
KINGSVILLE - February 06, 2014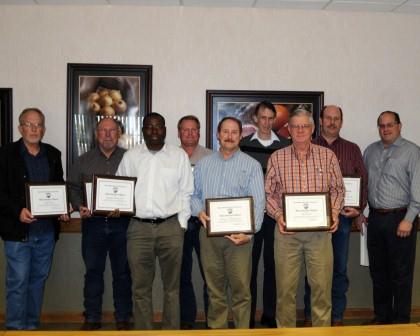 Two members of Texas A&M University-Kingsville's Citrus Center in Weslaco were part of a team recently honored with the Administrator's Award by the United States Department of Agriculture's (USDA) Animal and Plant Health Inspection Service (APHIS).
Dr. John da Graca, center director, and Dr.  Mamoudou Setamou, associate professor, were honored as part of a multi-agency team that developed and implemented the area-wide management program to control Asian citrus psyllid and the spread of huanglongbing, or citrus greening, in Texas.
The project honored was a USDA-APHIS cooperative agreement pilot study on area-wide management of psyllids in 2010-11. The results were used to design the program currently in use in the Rio Grande Valley.
Other members of the team included George H. Nash, Stuart W. Kuehn, Dr. David W. Bartels and Dr. Matthew Ciomperlik, from APHIS; Dr. Raul Villanueva, Texas A&M AgriLife Extension; Dr. Shashank Nilakhe, Texas Department of Agriculture; Paul Heller and Don Longwell, Paramount Citrus Inc.; and Ray Prewett, Texas Citrus Mutual.
-TAMUK- 
Photo Cutline: Shown, from left: George Nash, Don Longwell, Dr. Mamoudou Setamou, Paul Heller, Dr. Matthew Ciomperlik, Dr. John da Graca, Ray Prewett, Dr. David W. Bartels, Stuart W. Kuehn. Not shown are Dr. Raul Villanueva and Dr. Shashank Nilakhe. 
This page was last updated on: February 06, 2014