Health of animals linked to health of land is topic of Killam Lectureship
Peacock Auditorium, Biology Earth Sciences Building - 10/06/11 - 10/06/11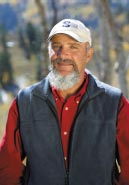 Dr. Fred Provenza, professor emeritus in animal behavior and management in the department of wildland resources at Utah State University, will present the Killam Lectureship in White-tailed Deer Research this year at Texas A&M University-Kingsville.
Provenza will speak about The Wisdom Body: Nutrition, Health and Nature's Pharmacopeia at 4 p.m. Thursday, Oct. 6, in the Peacock Auditorium in the Biology Earth Sciences Building. The lectureship is free and open to the public.
The Killam Lectureship is sponsored by the Caesar Kleberg Wildlife Research Institute, which is part of the Dick and Mary Lewis Kleberg College of Agriculture, Natural Resources and Human Sciences.
According to Provenza, the health of animals, including humans, is linked to the health of the land through the wisdom body. The wisdom body refers to the ability of all creatures to grow, reproduce and survive on foods they've become accustomed to eating in environments where they've become adapted to living. With humans, and the animals in our care, the wisdom body is facilitated or constrained by the alternatives on offer and the choices individuals learn to make.
Provenza and his team have produced groundbreaking research that has laid the foundation for what is now known as behavior-based management of livestock, wildlife and landscapes. In 2001, their efforts led to the formation of a consortium of scientists known as BEHAVE (Behavioral Education for Human, Animal, Vegetable and Ecosystem Management), an international network with members from five continents. The BEHAVE team is working to create awareness among a broad range of interests including land management, wildlife management and even nutrition.
"People are healthy when they learn to eat a variety of whole foods with diverse assortments of primary (nutrients) and secondary (phytochemicals) compounds, many of the latter with health-promoting  and medicinal properties; they are obese and suffer many diet-related diseases when they learn to eat foods high in refined carbohydrates, starches and sugars," Provenza said. "Likewise, wild and domesticated animals are healthy when they learn to eat diverse assortments of plants containing primary and secondary compounds; they become sick when they are confined and fed highly processed diets low in phytochemicals their bodies require for health."
About Dr. Fred Provenza
Provenza earned his bachelor's degree in wildlife biology from Colorado State University and his master's and doctoral degrees in range science from Utah State University. He has been at Utah State since 1976 working his way up from research technician to professor.
He is a member of the American Society of Animal Science, Appetite, International Society for Applied Ethology, International Society of Chemical Ecology, the Society for Rangeland Ecology and Management and the Society for the Study of Ingestive Behavior.
Provenza has won several awards including the D. Wynne Award from Utah State and the Professor of the Year from the College of Natural Resources two times. He was invited twice to present at the Gordon Conference, once in California and once in Switzerland. He also received the W. R. Chapline Research Award from the Society of Range Management.
 -TAMUK-
This page was last updated on: October 30, 2012