Lions International Peace Poster winners on display at John E. Conner Museum
John E. Conner Museum - 03/22/14 - 03/22/14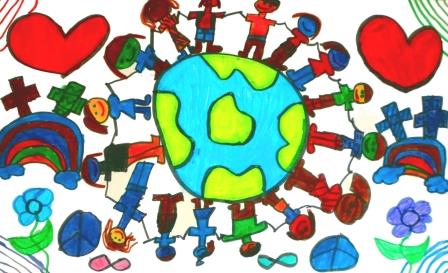 Every year, Lions International holds a Peace Poster Contest. Local intermediate school students participate and, this year, 96 entries will be on display at the John E. Conner Museum at Texas A&M University-Kingsville. 
The Peace, Love and Understanding exhibit will be on display at the museum from Saturday, March 8, through Friday, March 21 in the west gallery.
The local winning entry was created by Selina Molina, a sixth grade student at Gillett Intermediate School in the Kingsville Independent School District. Using crayons and felt marker crayons, she illustrated children, linked arm-in-arm, all around the circumference of the earth.
Her entry, along with runners-up Briana Tellez and Ceasar Bailey, also from Gillett, competed at the Lions Club district level competition in Brownsville.
The Lions Club International is the world's largest international service organization. It annually sponsors the Lions International Peace Poster Contest. This year's theme was Peace, Love and Understanding. Contestants were asked to illustrate what peace means to them, using a variety of two-dimensional art media, including charcoal, crayon, pencil or paint. Because it is an international competition, no words were allowed on the poster.
The Conner Museum is open from 8 a.m. to 5 p.m. Monday through Friday and from 10 a.m. to 4 p.m. Saturday. Admission to the museum is free. For more information, call 361-593-2810.
-TAMUK-
This page was last updated on: February 24, 2014