God of Carnage to be performed on Texas A&M-Kingsville stage
The Little Theatre - 10/13/13 - 10/13/13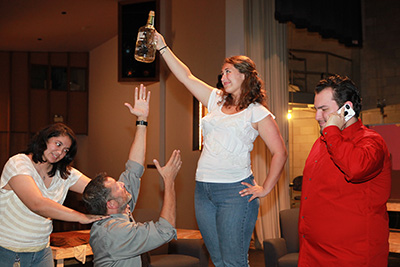 Students at Texas A&M University-Kingsville will perform God of Carnage at the Little Theatre in October. Performances begin at 7:30 p.m. Wednesday, Thursday and Friday, Oct. 9-11, and at 2:30 p.m. Sunday, Oct. 13. Admission is $5. This play is rated R for mature audiences only.
Dr. Patrick Faherty, associate professor in the art, communication and theatre arts department, will direct the play written by Yasmina Reza and translated by Christopher Hampton. It was the winner of a Tony Award in 2009.
The play revolves around two couples who come together to discuss a playground altercation between their two 11-year old sons. At first diplomatic niceties are observed, but as the meeting progresses and the rum flows, tensions emerge and the gloves come off, leaving the couples with more than just their liberal principles in tatters.
Gage Roberts and Ashton Garcia play Alan and Annette Raleigh, while Dan Garza and Anya Pena portray Michael and Veronica Novak.
Roberts is a sophomore from Kingsville and a theatre major. He has previously appeared in Aladdin, The Diviners, David's Mother and Blood Wedding. 
Garcia is a sophomore communications major from Orange Grove. This is her first theatre performance at Texas A&M-Kingsville.
Garza is a junior fine arts major/theatre minor from Kingsville. He has acted in Same as Sarah, Pillow Talk, Playing with Toys and the Toby Show.
Pena is a junior theatre major from Brookshire. She has appeared in Blood Wedding, Sins of Sor Juana and 'Dentity Crisis.
Alex Barona is a senior theatre major from Houston. He has worked behind the scenes and on stage in Snow White, Night of One-Acts, Noises Off and Same as Sarah.
Cassie Arguijo is a junior communications major who has worked on Playing with Toys, Noises Off and the Toby Show.
For more information, call 361-593-4301.
-TAMUK-
This page was last updated on: September 30, 2013