A Tempest hits the stage as A&M-Kingsville summer theatre
The Little Theatre - 07/05/12 - 07/06/12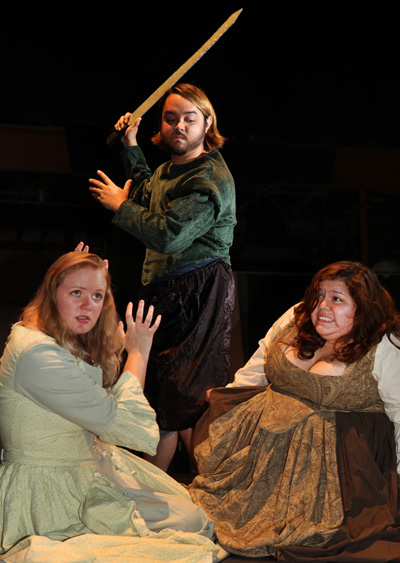 The art, communications and theatre department at Texas A&M University-Kingsville will present A Tempest by Aimé Césaire as their summer production. The play is directed by Dr. Patrick Faherty, associate professor. Performances will be at 7:30 p.m. Thursday and Friday, July 5-6 in the Little Theatre.
Admission is free and it is being produced in conjunction with the language and literature department's Exploring the Global Caribbean Conference being held on campus. The play is rated PG-13.
A Tempest was written as a postcolonial response to The Tempest by William Shakespeare. The story is the same – a big storm, an angry Duke who has been usurped by his brother, all the devoted courtesans and the natives. The play deals mostly with natives Ariel and Caliban, as it is Césaire's comment on the colonization of the New World. It was translated by Richard Miller.
A Tempest draws on contemporary Caribbean society, the Caribbean experience and mythology to raise questions about colonialism, racism and their lasting efforts.
Césaire is a world-renowned poet, essayist and dramatist whose best-known works include Notebook of a Return to My Native Land, The Tragedy of King Christophe and A Season in the Congo. He was the founding editor of Tropiques, which was instrumental in establishing the use of surrealism as a political weapon. He co-formulated the concept of "negritude," which urges Caribbeans to reject assimilation and cultivate consciousness of their racial qualities and heritage. Césaire has held a number of government positions in his native Martinique, including that of mayor of Fort-de-France. 
The cast includes:
Ariel – played by Vanessa Jurado, a senior theatre major from Eagle Pass. She has performed in Sylvia and been part of the crew in Bethlehem, Blood Wedding, Boxcar and Once Upon a Mattress. 
Trinculo – played by Catherine Desiderio, a senior theatre and communication education major from Kingsville. She has performed in Boys Next Door, Dead Man's Cellphone and Mama Drama.
Caliban – played by Desireé Putnam, a senior psychology major from Taft. Putnam also has performed in Daughters, Blood Wedding and Sins of Sor Juana. 
Stephano – played by Megan Saenz, a senior theatre major from Alice. She has previously performed in Blood Wedding, Snow White and Bethlehem. 
Gonzalo – played by Stacy Saenz, a senior theatre and communication major from Realitos. She has performed in A Funny Thing Happened on the Way to the Forum and was part of the crew of Dead Man's Cellphone, Snow White, Sins of Sor Juana and Once Upon a Mattress. 
Prospero – played by Sue Sabrio, math lecturer. She has previously been in Texas A&M-Kingsville productions of Miss Firecracker Contest, Brighton Beach Memoirs, Steel Magnolias, Into the Woods, Carousel, Dead Man's Cellphone and The Odd Couple. 
Ferdinand – played by Michelle Flores, a senior theatre major from Alice. She has been in Once Upon a Mattress, Savage in Limbo, Bethlehem and Little Shop of Horrors. 
Alonso – played by Vanessa Valdez, a senior communication sciences and disorders major from Coppell.  She was previously in Once Upon a Mattress, The Eight Reindeer Monologues and Blood Wedding.
Eshu and Antonio – played by Michael Verderber, English lecturer. He has previously appeared in The Servants of Two Masters, Our Town, A Midsummer's Night Dream and many others. 
Miranda – played by Jose "Buddy" Trevino, a 2011 graduate. He previously appeared in Boxcar, Tommy and American Buffalo. 
Sebastian – played by Aaron Adame, a junior theatre major from Corpus Christi. He has been in the productions of Godspell, Snow White, Las Cartas, Blood Wedding and Tommy. 
The stage manager is Cody Bigelow, a freshman theatre major from Falfurrias. He appeared in Once Upon a Mattress, Bethlehem and The Eight Reindeer Monologues.
For more information, call 361-593-3401.
 -TAMUK-
This page was last updated on: June 27, 2012