Final play of A&M-Kingsville theatre season tells the true story of poet Sor Juana
The Little Theatre - 04/25/12 - 04/29/12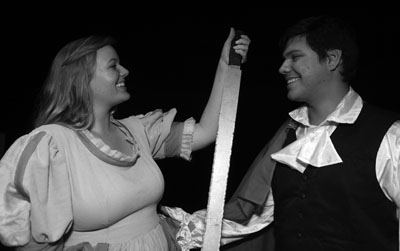 Sor Juana Inés de la Cruz was one of the first published poets of New Spain/Mexico. The students at Texas A&M University-Kingsville will put on the play that tells the story of Sor Juana Inés de la Cruz, The Sins of Sor Juana, by Karen Zacarías, as their last play of the 2011-2012 theatre season.
The play will be performed at 7:30 p.m. Wednesday, April 25, and again at 2:30 p.m. Sunday, April 29, in The Little Theatre. Admission is $5. Because of the content of this play, it is rated PG-13. 
The Sins of Sor Juana is the winner of the Helen Hayes Award—the Charles MacArthur Prize for Outstanding New Play, by the Kennedy Center in Washington , D.C. and the 1998 Hispanic Playwrights Project given by the South Coast Repertory Theatre.
Sor Juana was born in Mexico in 1648. She was a poor and illegitimate child. Intelligent and ambitious, she attempted to sneak into the University of Mexico at the age of 12 by dressing as a man. The Viceroy's court of New Spain heard about this phenomenal girl and invited her to join the court, where she developed an extremely close relationship with the Vicereine. By all records, Sor Juana was a very attractive, complex, witty and difficult young woman. She wrote and read voraciously.
Her circumstances and intelligence provoked admiration and envy. However, when she was 17, she suddenly and inexplicably left the viceregal court to join a convent. There are theories about failed love, fear of marriage and her sexual identity. In the convent, her focus was not God, but writing and her work and poetry expressed a feminism centuries ahead of her time.
For years while the church struggled to silence her, she resisted and continued writing until one day she wrote a declaration in her own blood, vowing never to write again.
Desiree Putnam, a senior psychology major from Taft, plays the lead role of Sor Juana. She also has performed in Daughters, Blood Wedding and was part of the technical crew for Snow White and the Seven Dwarfs.
Alyssa Gonzalez plays Novice. She is a sophomore liberal arts major from Alice and has previously performed in The Wizard of Oz, The Who's Tommy and Blood Wedding.
The dual part of Padre Nunez and the Viceroy will be played by Miguel Venegas, a senior theatre arts/communications/radio-TV major from Pharr. His previous productions include Little Shop of Horrors, A Funny Thing Happened on the Way to the Forum, Boxcar and I Hate Hamlet.
Anya Pena, a freshman theatre arts major from Brookshire, will play the dual part of Madre Filothea and Zochitl. She was previously in Blood Wedding.
The dual role of Sor Sara and the Vicereine will be played by Leah Lizzett Luna. She is a senior theatre arts major from Del Rio. She directed Snow White and the Seven Dwarfs and performed in The Who's Tommy, Sylvia and Las Cartas.
Fernando Mercado, a freshman theatre arts major from Mission, plays the role of Silvio. Mercado was in Blood Wedding and Snow White and the Seven Dwarfs.
The part of Pedro will be played by Benito Latigo Jr., a junior communications major from Progreso. His previous productions include The Who's Tommy, Snow White and the Seven Dwarfs and The Reindeer Monologues.
The stage manager is Jalen Gonzales, a freshman theater arts major from Woodsboro. He was assistant prop manager for Bethlehem and appeared in Blood Wedding, Reindeer Monologues and Snow White and the Seven Dwarfs.
Dr. Patrick Faherty, associate theatre arts professor, will direct the production. Other members of the crew include Aaron Adame, assistant stage manager; Corey Ranson, assistant professor, set design/technical director; Benito Latigo Jr., costumes; Stacey Saenz, properties mistress; Megan Saenz, light operator; Vanessa Valdez, sound operator; and Alex Barona, Theresa Boler and Katelyn Forst, running crews.
For more information, call 361-593-3401.
 -TAMUK-
This page was last updated on: April 18, 2012