Dr. Thomas Krueger Wins a Research Award for Third Year in a Row
---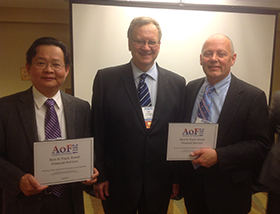 CBA finance professor Dr. Thomas Krueger was co-recipient of the "Best-in-Track" Award across the research presentations focusing on the Financial Services industry at the 2014 Academy of Finance meetings.  The meeting was held in Chicago, Illinois, drawing reports from over 100 finance researchers.  In the Financial Services track there were 32 presentations.  Awards winners are selected on an anonymous basis by members of the program committee. This is the first time a "Best-in-Track" award has been awarded in the financial services area, perhaps because of the high number of presentations in this area.
This marks the third year in a row that Krueger has won a Research Award.  In 2012, he won the Best-in-Track award in Investments and Portfolio Management at the Academy of Finance meeting.  That award, also with Professor C. Edward Chang (Missouri State University), for their study of the value of Consumer Reports magazine's choices for mutual fund purchase.  In 2013, he won the  Global Scholar Institute (publisher of the Mustang Journals) award for his study titled "Management Journals: Paying for Acceptance?"  
This year's winner compares the performance of the VICEX fund to those that limit selections to mutual funds of a similar size and blend style (paying both dividends and seeking capital gains).  The VICEX fund largely limits selections to firms in the alcohol, gambling, tobacco and weapons production industries.  The fifteen benchmark "virtue funds" were identified by the U.S. SIF (Sustainable Investment Forum) as being those fund which pick the most ethical companies.  Although the VICEX fund has higher transaction costs, turnover, and risk, its higher returns results in better  risk-adjusted returns, which are statistically significant.  Furthermore, the VICEX Fund outperforms the general stock market during market rises but does not follow the market downward during recessions.