Fitness & Wellness
---
 Find What Moves You
Get moving with Rec. Sports Fitness! Our programs emphasize physical fitness and healthy lifestyle behaviors by offering group fitness classes, personal training, and special events. These programs encourage healthy body image awareness and promote proper exercise techniques.
Group Fitness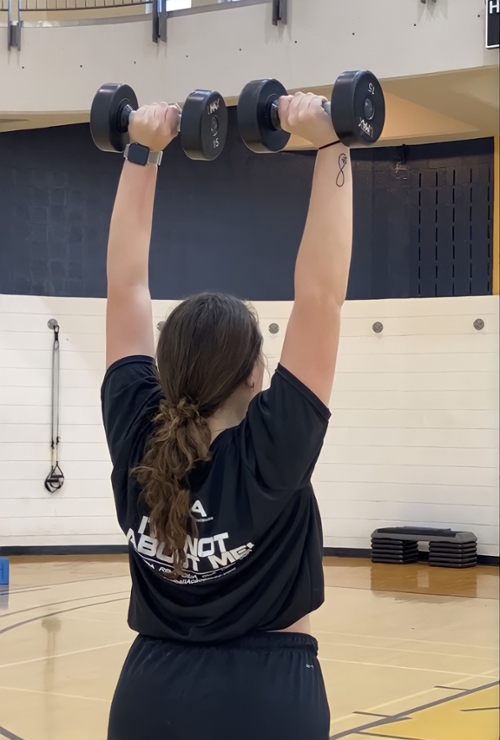 Our instructors lead fun, motivating, and FREE group workouts designed for all fitness levels. Whether you want to connect to your breath with yoga or pump up the beat with Zumba, you'll find what you're looking for in our wide variety of classes.
Reservations are available but not required for any of the classes that we offer. All classes are drop-in and access is on a first-come, first-served basis.
You can secure your spot ahead of time! Register on our portal

 

and arrive at least 5-10 minutes before class starts to claim your spot. Unclaimed spots will be given to drop-in participants. Reservations open 1 week in advance and close 15 minutes before class begins.

Additionally, if your plans have changed and you are no longer able to attend, please kindly cancel your reservation to open a spot for another member.

Your instructor will start checking in participants 10 minutes before class begins. Once you're checked in, you may set up your equipment (if needed).
If you show up late to class, please make to have your instructor check you in before you leave.
At the end of class, please clean and put away your equipment.
Participants must be 18 years or older to participate in group fitness classes.
Athletic footwear is required for all group fitness classes except any yoga class.
Please arrive 10 minutes early to class to allow for equipment set-up.
A minimum of three participants is required for all classes to be held.
Please avoid using your cell phone when class is in session; if necessary, make calls and texts outside of the class.
Taking photos or videos during class is strictly prohibited unless approved in advance by our Coordinator of Fitness.
Out of respect for the instructor and participants, please avoid conversations while class is in session.
Please note: exercise is not without its risks and this or any other exercise program may result in injury. Do not start this fitness program if your physician or health care provider advises against it, or if you have a medical or physical condition that may increase your risk of injury or death. If you experience faintness, dizziness, pain, or shortness of breath at any time while exercising you should stop immediately. Please be sure to check that any equipment or space in which you use to exercise is safe and not at risk of causing harm to you or those who may be around you. Those following the workout routines do so at their own risk. Programming is intended for audiences 18 and older
r.
Personal Training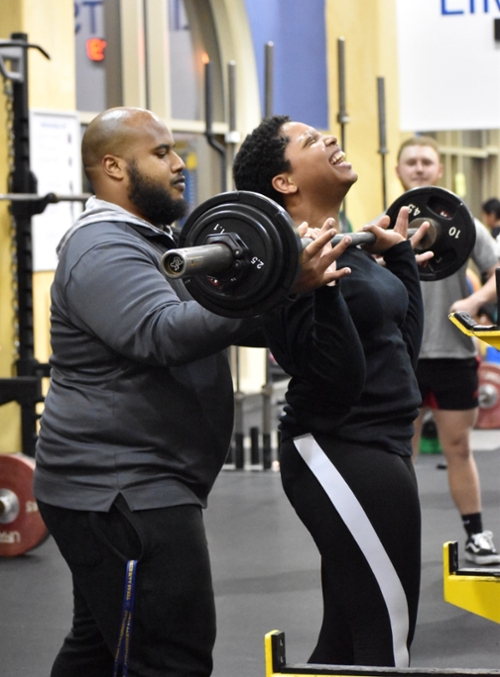 Get a fitness plan uniquely crafted to help you reach your goals. Our fitness staff will develop a program specifically designed for you that will help you maximize your workout and minimize your risk of injury.
After completing a Personal Training Interest Form, you will be contacted to come into the Student Rec. Center to purchase sessions and fill out the proper paperwork.
General Policies
Personal training sessions are available for TAMUK students and anyone with an active TAMUK Rec. Sports membership.

All required forms (Health & Physical Activity History, Health & Physical Activity Agreement, Informed Consent/Release for Participation in a Personal Training Program, Physical Referral Form, PAR-Q, and Medical Screening Form) must be completed, current, and on file before each session.

All forms expire 365 days from the completion date or as medical history or payment method changes.

All patrons must wear appropriate footwear and clothing to each session.

In the instance that your top personal trainer that you requested on the registration form isn't available, another trainer will be assigned to work with you during your training sessions.
All personal training sessions must be held in the Student Recreation Center or the Outdoor Complex during operational hours.
Payment Policies
Training session packages must be paid for in full before training starts.

We only accept credit or debit card payments.

Paying a Personal Trainer directly is strictly prohibited and will result in membership termination.
Cancellation & Late Policy
If you are unable to make your session, you must contact your trainer to cancel. The session must be canceled 12 hours in advance. At that time, the session may be rescheduled. If you fail to call and miss your appointment, it will result in the forfeiture of that session and you will not be refunded.
Personal trainers will only wait 15 minutes for late arrivals and your sessions will start from the time agreed upon. Please call if you are going to be more than 5 minutes late for a session.
If the client forfeits more than three sessions within three months, the trainer has the right to discontinue the client's package and refund the remaining sessions.
Sessions purchased within a package are to be used within 6 months from the purchase date or sessions will expire and will not be refunded.
Refund Policy
If you purchase Personal Training Sessions and cannot finish the sessions due to health issues, you may be eligible for a refund.
You must provide documentation from your physician to receive this refund and it must be submitted to the Assistant Director of Fitness and Facilities for approval.
If approved, the package will be frozen for a period of up to 6 months, after which the remainder of the 6-month time limit will resume. The client must have written medical clearance from a physician before resuming exercise.
Expiration Policy
You will not be reimbursed for unused sessions so please consider this when purchasing Personal Training packages and rescheduling appointments.
Considerations may be made by the Assistant Director of Fitness & Facilities, for special circumstances.
One-on-One Training
Designed for anyone looking for direction and motivation in their fitness routine. Work with a trainer one-on-one to customize and reach your fitness goals.
Fitness Assessment
This assessment is designed for anyone interested in learning more about his or her body composition and will measure vitals, body composition, circumference measurements, skinfold measurements, muscular strength muscular endurance, flexibility, and aerobic/anaerobic capacity.
Rent-A-PT
This is a 4-hour pop-up event that will happen randomly during the workweek wherein a personal trainer will be available for a FREE 30-minute session tailored to the patron's needs. During these sessions, personal trainers can evaluate form, answer any fitness-related questions, or simply help patrons design a workout of the day. Participation is contingent upon the completion of a PAR-Q and Informed Consent/Release for Participation Form. Medical clearance for participation may be required.
Meet Your Trainers