Competitive Sports
---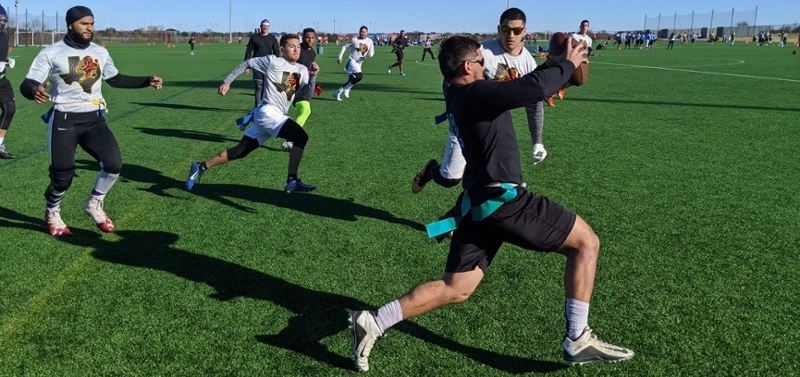 Get out there and have some fun! Competitive Sports offer students the opportunity to play in structured games, leagues, and tournaments. Club Sport athletes represent TAMUK in intercollegiate competitions at regional and national levels. Intramural Sports allow the TAMUK community to play a wide range of sports on campus while accommodating student schedules to the best of our abilities. Our new state-of-the-art esports gaming lounge provides an opportunity to get competitive in the virtual space. Whether you're at-home with a controller, or on the field with a bat, Competitive Sports has you covered!
Welcome to the Javelina Gaming Lounge!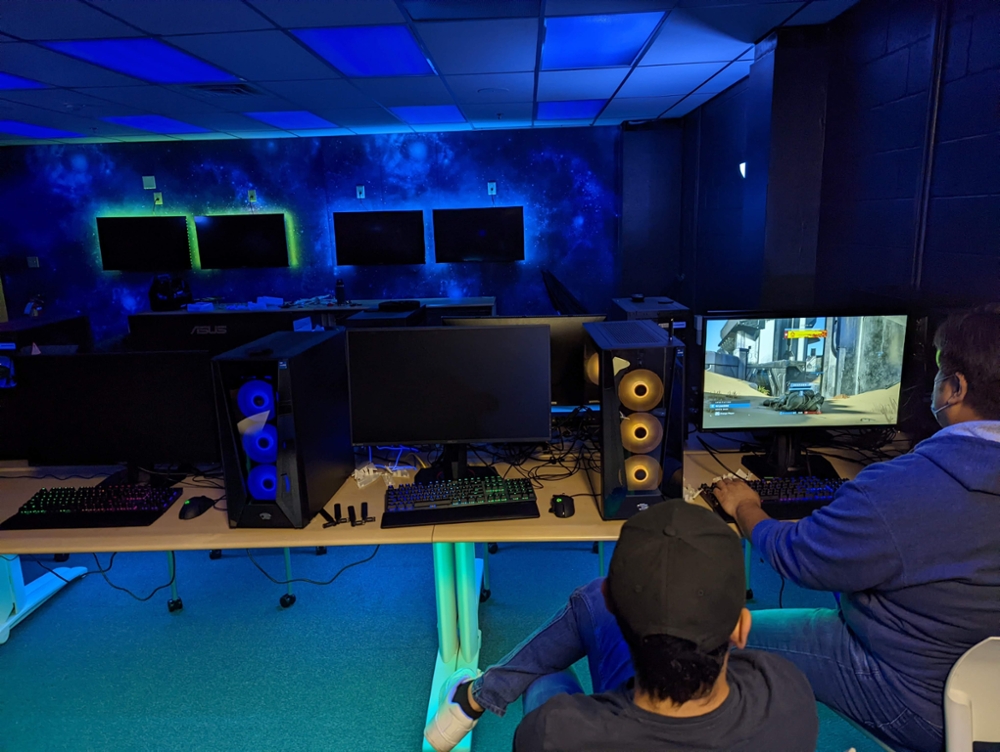 Overview
The Javelina Gaming Center is a state-of-the-art esports gaming center located on the first floor of the Jernigan Library (Room #123). The space is designed for all levels of play, and can support multiple platforms and consoles. Sign-Up for our E-Sports Tournaments for a chance to win to great prizes. If gaming is not for you but you love sports then come join us for a watch party for various big sporting events throughout the year. RSVP and we will have plenty of pizza and drinks for you!
Javelina Gaming Lounge Policies
Features
The gaming center was built to welcome players of all different levels with the ability to adapt to players' preferred method of playing. Bring your own device (BYOD) / bring your own peripheral (i.e. headsets, mice, controllers, etc.) if you are more comfortable with your own equipment. See the policies for full details.
10 iBuyPower Gaming PC's with 24" ASUS monitors
4 - 43" TV's with the latest consoles (consoles pending market availability)

BYOD is permitted at this time.

2 - 75" TV's with 2 Nintendo Switches and sports channel streaming
1 - 55" TV with sports channel streaming
Accessibility
The Javelina Gaming Lounge makes every attempt to develop inclusive, accessible programs. Please, let our team know if there are adaptations/accommodations to help facilitate your play. Email: recsports@tamuk.edu or Call: 361-593-3059. Voluntary Product Accessibility Templates (VPATs) and exceptions are listed on the VPAT repository.
The Intramural Sports Program offers the campus community the opportunity to compete against each other in various team competitions. Intramural Sports strives to provide a healthy outlet that promotes social interaction through fair competition in sports such as Flag Football, Basketball, Volleyball, Soccer, and an abundance of other leagues throughout the year. In select sports students will also have the chance to compete against other universities in Extramural activities.
Overview
Club Sports are a great way to be active on campus. There is no experience required to join a club and all students are welcome. The Club Sports Program at Texas A&M University - Kingsville offers the opportunity for students to compete as non-varsity athletes in various forms of intercollegiate competition while assisting in the development of well-rounded student leaders. All Club Sports are registered student organizations through the Office of Student Engagement. Students are directly responsible for all aspects of operating and managing a successful competitive sports organization. Don't see a club you are interested in? Contact Malik.Jones@TAMUK.edu to get the information needed to start a new club on campus.
Active Clubs
How To Become A Club Sport?
Schedule an appointment

with the Competitive Sports Coordinator at the Recreational Sports Department to discuss the process to becoming a Club Sport, and the differences between a Club Sport and Registered Student Organization.

Advisor

:  Each organization must have an advisor who is a member of the faculty or staff at TAMUK. Graduate students and teaching students are not eligible to be advisors.

Statement of Purpose

: It will be important for you to create a statement of purpose, which will be submitted with other paperwork to complete your recognition.

Information Sheet

:  A form outlining your organization's leadership will need to be submitted (form is on Javelina Central).

Constitution/By-Laws/Governing Documents

:  All organizations must submit (and update anytime there are changes) a constitution and any other governing documents, such as by-laws. These will also routinely need to be updated every three years.  Must have Advisor and Officer Signature and date, when submitting Constitution /By-laws.

Membership Roster

:  Each organization must have at least 10 members on their organization Javelina Central page.

Advisor Contract

– Each organization must submit an Advisor Contract. The advisor must complete the Campus Clery Compliance Training on TrainTraq  (2111844: Clery Act Guidelines for A&M System Campus Security Authorities). 

New Student Organization

documents must be submitted on Javelina Central https://tamuk.presence.io/ for approval.  
    9. Javelina Central is through which you will be updated on the latest important deadlines and                information on student groups and organizations on campus.  Javelina Central will provide                      information on events, activities, and programs.