McNair Scholars Program
---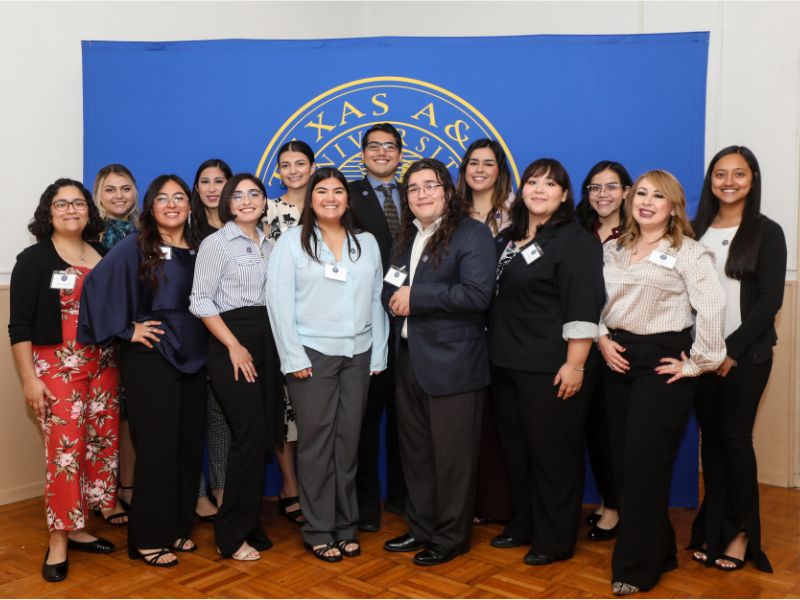 About
Dr. Ronald Ervin McNair, the second African American to fly in space, was born on October 12, 1950, in Lake City, South Carolina. He graduated as valedictorian from Carver High School in 1967. In 1971, he graduated magna cum laude with a bachelor's degree in physics from North Carolina A&T State University (Greensboro). He received a Ph.D. in physics from the Massachusetts Institute of Technology in 1976. His academic and subsequent career successes, dimmed only by his untimely death, serve as a beacon to the current generation of college students who, for many reasons, may feel that graduate education in general and the doctoral degree in particular are inaccessible.
Dr. McNair was nationally recognized for his work in the field of laser physics and was selected by NASA from a pool of ten thousand applicants for the space shuttle program. He was also the recipient of many honorary degrees, fellowships and commendations. A sixth degree black belt in karate and an accomplished saxophonist, he was married to Cheryl Moore and had two children, Reginald Ervin and Joy Cheray.
Dr. McNair died on January 28, 1986 along with six other crew members in an explosion nine miles above the Atlantic Ocean aboard the space shuttle Challenger.
Mission
The mission of the Texas A&M University-Kingsville McNair Scholars Program is to prepare and increase the number of juniors and seniors in the fields of Math, Sciences and Engineering to pursue doctoral studies. The program is named after the late Dr. Ronald E. McNair and is one of the 186 McNair programs sponsored by the U.S. Department of Education under the TRIO grant programs.
McNair scholars are a talented and unique group of students that, through their participation in the program, receive academic advising, faculty mentorship, research experiences, tutoring and other scholarly activities in preparation for their enrollment in graduate school.
Students who participate in the program come from disadvantaged backgrounds, show strong academic potential, and are committed to pursuing a doctoral degree. The McNair Scholars Program at Texas A&M University-Kingsville works closely with the students through their undergraduate requirements, encourage their entrance into graduate programs, and tracks their progress to successful completion of advanced degrees.
Program Description
The McNair Scholars program is made possible through a grant from the U.S. Department of Education. This grant supports undergraduate students' scholarly activities throughout the academic year and summer. Through this support, Texas A&M University-Kingsville  is playing a very important role in preparing faculty by encouraging students to pursue graduate studies.
Exposure to graduate work and mentorship programs are important for students to realize their full potential. Low-income, first generation college students or minority students underrepresented in graduate education are invited to submit an application to this program. The McNair Program prepares undergraduate students aspiring to study at the graduate level.
Program Objectives
During the academic year, students participate in activities that support and encourage high level of educational achievement. In addition, the program will also offer seminars focused on graduates school and GRE exam preparation, as well as other cultural and educational activities. Academic year activities are specifically designed to prepare juniors and seniors to be candidates for the next summer's research component.
During the summer semester, students engage in a summer research internship to complete a research project under the mentorship of a faculty member in their discipline. Scholars present their research at the annual McNair presentation luncheon.
Eligibility requirements:
Students are eligible to apply if the applicant is a TAMUK student, has at least a 3.0 GPA, and has a strong interest in pursuing a Ph.D. In addition, the following criteria must be met:
A U.S. citizen or permanent resident,

a sophomore, junior or senior (Sophomores will need to have completed 60 credit hours before they participate in the first summer component; seniors may apply to the program only if they will not graduate before the end of Fall 2024), and

EITHER a first generation college student who is low income, OR a member of a group underrepresented in graduate study (African-American, Hispanic, American Indian, Alaskan Native, Native Hawaiians, Native American, or Pacific Islanders).

Not be enrolled for any courses in Summer 2024
Application requirements:
In order to be considered for entry into the program, the following steps will need to be completed:
Submit the Online McNair Scholars Program application which requires a personal statement and updated resume.

Request three recommendations from faculty members (two from faculty members in your discipline and one from any other discipline). While completing the online application you will be prompted to enter the email addresses of your faculty recommenders. An email will be sent directly to them to complete an online electronic recommendation form.

Submit the following supporting documents via document upload to the link that will be emailed to you after the application is submitted:




Current unofficial TAMUK transcript.

Copy of social security card and State ID.

Copy of your and your parents' 2022 income tax return from (IRS 1040).

Copy of academic Degreeworks plan.
Selection process:
Students submit application and required documentation.

The McNair Advisory committee will review applications and select prospective students for an interview.

Students will be interviewed by the McNair Advisory Committee.

The committee will rank and select students.

Selected students will be notified via email (on or before January 2024)
The 2023-2024 application cycle will be from September 18 to November 12, 2023.
PLEASE NOTE: Due to the last-minute increased interest from prospective students, the deadline for applications has changed from October 31st to November 12th.
If you have any questions please call (361) 593-2682 or (361) 593-4767 or email mcnair@tamuk.edu.
Lauren Balderas, DVM, Texas A&M University, Veterinary Medicine
Noe Benitez, JD, Texas Southern University, Law
Jacqueline Besinaiz Thomas, Ph.D, Texas A&M University, Chemistry
Jennifer Correa, Ph.D, University of Missouri, Columbia, Sociology
Natasha Croom, Ed.D, Iowa State University, Educational Leadership
Iris De Leon, DPT, Texas Tech University Health Science Center, Physical Therapy
Diamond Edwards, DVM, Tuskegee University, Veterinary Medicine
Maria Esparza, DVM, Texas A&M University, Veterinary  Medicine
Whiney Fakolade, Pharm.D., University of Southern California, Pharmacy
Jacob Galan, Ph.D, Purdue University, Biochemistry
Clarisa Garcia, MD, University of Texas Medical Branch, Galveston, Medicine
Celia Garcia Prieto, Ph.D, University of Texas Health Science Center Houston, Life Science
John Garcia, JD, Texas Tech University, Law
Jose Garza, MD, University of Texas Health Science Center Houston, Medicine
Mariana Garza, JD, Tulane University, Law
Andrea Gerla, MD, Texas A&M University Health Science Center, Medicine
Laura Gerla, MD, Texas A&M University, Medicine 
Laurie Gonzalez, MD, University of North Texas Health Science Center, Medicine
Trevor Gonzalez, Ph.D, Duke University, Molecular Genetics and Microbiology
Norma Laurel, MD, Texas A&M University Health Science Center, Medicine
Bich Nhat Le, OD, Salus University, Optometry
Beatrice Lopez, MD, University of Texas Health Science Center San Antonio, Medicine
Tiffany Masters, MD, University of Texas Medical Branch, Medicine
Hilda Morano, Ed.D. Texas A&M University-Kingsville, Bilingual Education
Ifunanya Ogbata, Pharm.D., University of the Incarnate Word, Pharmacy
Peter Pardo, Ed.D., Texas A&M University-Kingsville, Educational Leadership
Ruben Pena, Ed.D, Texas A&M University-Kingsville, Educational Leadership
Maria Perez-Johnson, MD, University of North Texas Health Science Center, Medicine
Ofelia Perez, DDS, Creighton University, Dentistry
Vanessa Perez, PHRD, University of Houston, Pharmacy
Zhanita Perez, PHRD, University of Maryland Baltimore, Pharmacy
Michele Rico, Pharm. D, Texas A&M University, Pharmacy
Gabriela Rios, Ph.D, Texas A&M University, English
Kimberley Rodriguez, Ph.D, Texas A&M University, Counseling and Guidance
Hannah Romo, Ph.D, Colorado State University, Pathology
Rosemary Rubino, Ed.D, Texas A&M University-Kingsville, Educational Leadership
Israel Saenz, JD, University of Texas Austin, Law
Stephanie Sandoval, Aud.D., Lamar University, Audiology
Katie Smith, Ph.D, Texas Tech University, Philosophy
Abisola Tairu, Pharm.D, Texas A&M University, Pharmacy
Miriam Villanueva, Ph.D, Texas Christian University, History
McNair program staff

Alejandra Amaya, M.A.

Director

(361)593-2682

Veronica Arellano, M.S.

Program Coordinator

(361)593-4767