Panhellenic Council (CPC)
---
The Panhellenic Council is the governing body for the social sororities that are members of the National Panhellenic Conference. The purpose of the Panhellenic Council is to foster Interfraternity relationships and to promote high scholastic and social standards.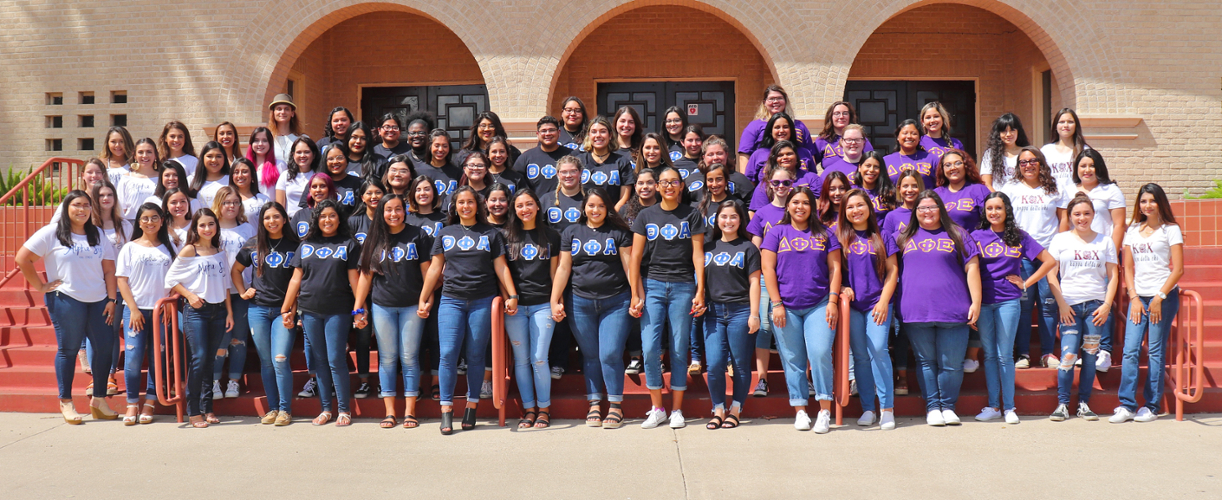 Panhellenic Creed
We, as the Undergraduate Members of women's fraternities, stand for good scholarship, for guarding of good health, for maintenance of fine standards, and for serving, to the best of our ability, our college community.  Cooperation for furthering fraternity life, in harmony with its best possibilities, it the ideal that shall guide our fraternity activities.  We, as the Fraternity Women, stand for service through the development of character, inspired by the close contact and deep friendship of individual fraternity and Panhellenic life.  The opportunity for wide and wise human service, through mutual respect and helpfulness, is the tenant by which we strive to live.
Panhellenic Council Meeting
Panhellenic council meets every Monday at 3:00 pm in the Javelina Student Engagement Center (JSEC), located across Lynch Hall. Due to COVID-19 currently meetings are being held virtually through BlackBoard Collaborate.
Panhellenic Formal Recruitment
Formal recruitment is scheduled for August 31st through September 2nd! If you would like to join one of our amazing sororities register for recruitment below! 
www.tamuk.mycampusdirector2.com 
Note: You must register for recruitment and attend one of our recruitment 101 informational sessions to attend formal recruitment.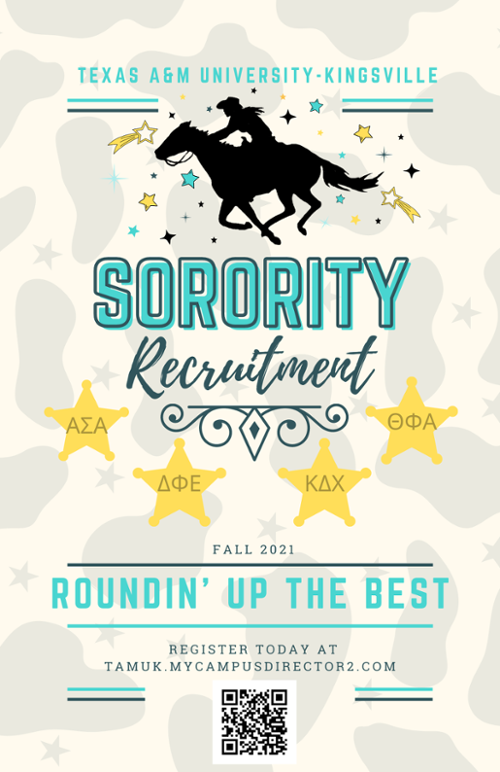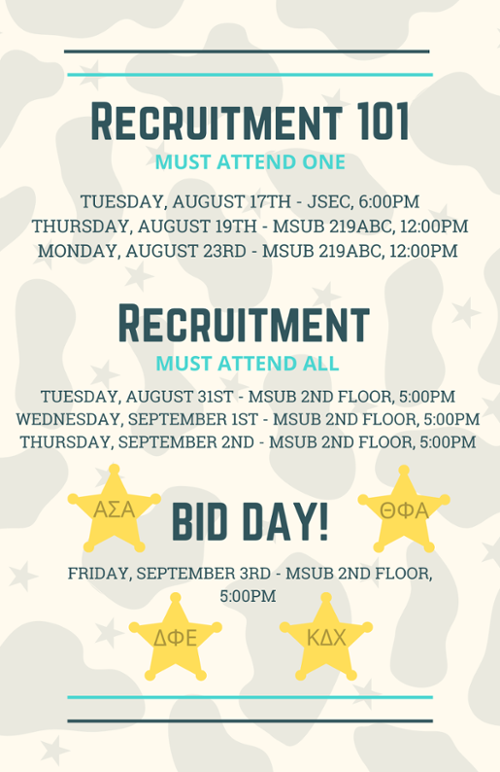 Quick Facts
The first national sororities at TAMUK were Chi Omega and Zeta Tau Alpha each chartered in 1964
Theta Phi Alpha Women's Fraternity was chartered on campus in 2003.
Kappa Delta Chi was chartered on December 20th, 2003 and is an Associate Member of our Panhellenic Council. They are the only Multicultural sorority currently on campus.
Delta Phi Epsilon was chartered on April 17th, 2004.
Alpha Sigma Alpha was the latest chapter to charter at TAMUK, receiving their charter in 2009.
National Organizations
Forms for both Fraternities and sororities:
Forms for Panhellenic:
Fall Reports:
Spring Reports: