Delta Phi Epsilon
---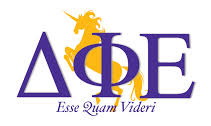 Delta Phi Epsilon
Founding Principles:
Justice, Sisterhood, and Love
Colors:
Royal Purple & Pure Gold
Symbol's Mascot:
Unicorn
Philanthropies:
Anorexia Nervosa and Associated Disorders
Cystic Fibrosis Foundation
Delta Phi Epsilon Educational Foundation
Flower:
The Lovely Purple Iris
Motto:
Esse Quam Videri - "to be rather than to seem to be" In today's world a woman can be so many things. You can be a friend, be a mother, be a teacher, or even be the president for example. Delta Phi Epsilon encourages each sister to above all else, be true to who you are.
Mission:
The mission of Delta Phi Epsilon Sorority is to develop in women a social consciousness and a commitment to think and act for the greater good. We assure continuous development and achievement for women through individual attention and smart strategic growth.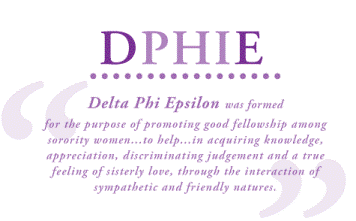 History:
On March 17, 1917, five women at New York University Law School took a pledge of sisterhood and loyalty and so founded the Alpha Chapter of Delta Phi Epsilon, one of the first non-sectarian, social sororities and the only one founded at a professional school.
Member Activities:

Promote Greek life on campus
Participate in community service projects
Develop as an individual through our 21 PEARLS Program
Abide by Expectations of Membership
Socialize with organizations
Participate in campus activities
Promote sisterhood
Requirements for Membership:
Must be a woman currently enrolled at Texas A&M University-Kingsville
GPA requirement is 2.25 or higher.
Must be interested in promoting community service, Greek life, sisterhood, and development of outstanding scholarly and professional standards
No membership will be denied membership on the grounds of age, ancestry, color, disability, national origin, race, religion, or sexual orientation.
FOLLOW DELTA PHI EPSILON ON SOCIAL MEDIA!
*A Student Service Fee Funded Program