Department of Civil and Architectural Engineering
2023 graduates with hard hats
The top 5 Civil and Architectural Engineering Senior Design Teams were recognized at the CEAE Celebration Brunch.  Congratulations to:
5th place: City Walk Plaza – Aaron Recio, Alfredo Cortes, Catherine Holmes, Seth Polanco, and Michael Herrera
4th place: Hoggie's Travel Plaza -  Marissa De Leon, Marco Lopez, Benjamin Galindo, Carlos Rodriguez, and Omar Chavarria
3rd place: TAMUK Student Union Building Redesign – Juan Castillo, Aida Esparza, Daniel Sebastian Martinez, and Matthew McCanna
2nd place: Lantana Street Commuter Parking Lot and Stormwater Improvements – Jon Olmos, Mekhled Almutairi, Joseph Nicholson, and Vicente Osornia
1st place: TAMUK Campus Multi-Bay Parking Garage Design – Aida Esparza, Daniel Sebastian Martinez, and Christian Luna.  This team also won 1st place overall for the College of Engineering.
The following students were individually recognized with departmental awards:
Moayad Khalifeh, MS CEEN, Outstanding Graduate Student
Bibek Kafle, MS CEEN, Academic Excellence
Kristina Gutierrez, MS CEEN, Best Service
Marco Lopez Mejia, BS CEEN, Outstanding Senior
Daniel Sebastian Martinez, BS CEEN, Academic Excellence
Anthony Ramon, BS CEEN, Best Service
Ana Sofia Garcia Chazaro, BS AEEN, Outstanding Senior
Aida Esparza, BS AEEN, Academic Excellence
Jacquelyne Garcia Torres, BS AEEN, Best Service
Congratulations and best wishes to all our May 2023 graduates!
Welcome!
Welcome to the Department of Civil and Architectural Engineering at Texas A&M University-Kingsville! We offer B.S. and M.S. degrees in Civil Engineering with a broad focus in the areas of geotechnical, structural, transportation, and water resources engineering. Our B.S. in Architectural Engineering is an interdisciplinary degree that focuses on building systems engineering, structural engineering, construction management, and basics principles of architectural design.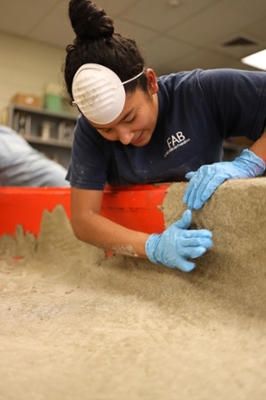 ASCE students working on the concrete canoe.
Our Mission
The mission of the Department of Civil and Architectural Engineering at Texas A&M University-Kingsville is to create a respectful learning environment that prepares graduates to meet industry needs, demonstrate professional responsibility, and pursue fulfilling careers.
Learn More
For more information, please explore this website or follow us on Facebook or Instagram. 
Support Our Mission
If you are looking to make a donation, the Texas A&M University-Kingsville Foundation supports the College of Engineering Civil and Architectural Engineering programs with funds raised through endowments, planned gifts, as well as one-time contributions. To learn more, please visit the Texas A&M-Kingsville Foundation or make a contribution online today.