Communication Sciences and Disorders
| Graduate Program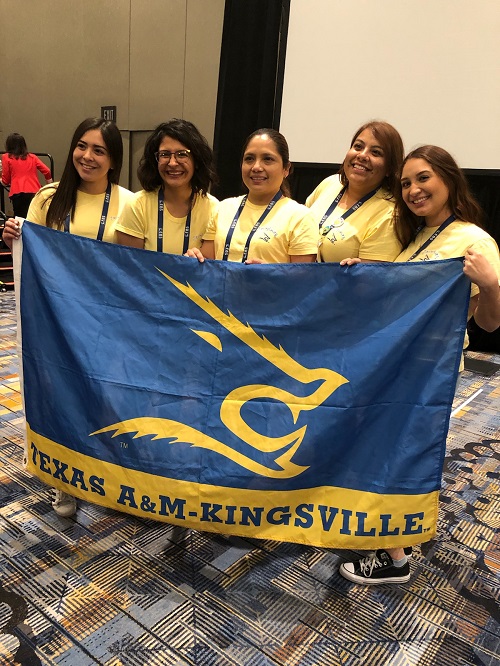 TAMUK's 2nd Place Winning Praxis Team - TSHA February 2020
The Master of Science in Communication Sciences and Disorders is a five-semester program: one academic year (Fall, Spring, Summer) followed by two terms (Fall, Spring) of full-time externship practicum. During the externship terms, students also complete one or two online courses. Most years, students have the option of fulfilling one of these online courses through a study abroad program in Belize, held during winter intersession.
The degree requires a total of 57 credit hours: 42 academic hours, 12 hours of clinic (intern and extern) and a minimum of 3 credit hours of research. Students may choose to complete either (A) a 3-credit Master's project (CSDO 5305, which faculty mentor individually) plus CSDO 5312 Contemporary Issues, or (B) a 6-credit, two-term Master's thesis (CSDO 5306, which requires an advisor and two additional committee members).
Research Opportunities
The MS Communication Sciences and Disorders degree is primarily a clinical degree. However, as a practicing clinician, it is important to be able to critically read and integrate research information from professional journals and apply the information using evidence-based practice. To promote this, all graduate students are required to complete the CSDO 5301 Research Methods course. This course provides an introduction to the design and conduct of research and evidence-based clinical practice in the field.
Students are also required to complete a research project or a thesis under the direction of a member of the faculty.  CSDO faculty engage in a wide range of research. Please see the faculty profiles for information on research interests of current faculty.
Clinical Opportunities
The CSDO department houses an on-campus clinic that serves students, faculty, and members of the Kingsville community.
First Year:  Graduate students begin seeing clients during their first semester as part of their clinical practicum. During the first year, graduate students typically see one client during the first semester and two clients during the second semester. All students will receive clinical experience with adult and child clients. In addition to seeing clients in the on-campus clinic, first year graduate students also have the opportunity to complete clinical practicum hours off campus at local hospitals, schools, and an on-campus Children and Youth Center (CYC). By the end of the first year, students will have accrued an average of 50 to 75 hours of clinical experience.
Second Year: Second year graduate courses are all offered online, providing students the opportunity to travel anywhere in the U.S. to complete a clinical externship. Recent externship locations have included sites in Arizona, Ohio, Louisiana, and Pennsylvania. By the end of the second year, graduate students will have accrued the 400 hours required to begin the CFY year after graduation.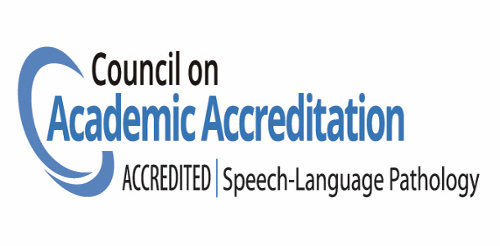 The master's degree (MS) education program in speech-language pathology at Texas A&M University-Kingsville is accredited by the Council on Academic Accreditation in Audiology and Speech-Language Pathology of the American Speech-Language-Hearing Association,
2200 Research Boulevard #310, Rockville, MD, 20850
; Phone: (800) 498-2071 or (301) 296-5700.