Engineering Students Earn High Marks at 2014 Texas/Mexico Steel Bridge Competition
KINGSVILLE - January 28, 2014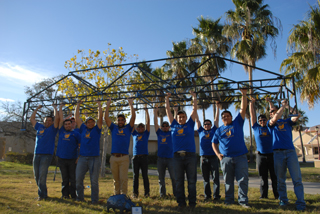 A team of students from the Texas A&M University-Kingsville Frank H. Dotterweich College of Engineering constructed a steel bridge in 13.35 minutes—the fastest time of any of the schools competing in the 2014 Texas/Mexico Steel Bridge Regional Competition
.Sponsored by the American Society of Civil Engineers and the American Institute of Steel Construction, the Steel Bridge Competition challenges students to develop a concept for and design a steel structure that meets specifications and optimizes performance and economy.
Twelve engineering students, including 11 civil engineering students and one chemical/natural gas engineering student, competed in Arlington, Texas January 17-18 in the regional portion of the competition. Other participating schools included Texas A&M University, University of Texas-San Antonio, West Texas A&M and Universidad Autonoma del Estado de Mexico.
The Texas A&M-Kingsville team placed first in construction speed, constructing their structure nearly three minutes faster than the next fastest team. The team ranked second in structure stiffness, third in efficiency, fourth in lightness and cost and fifth in display.
Students on the team include:
Mario Villarreal, Eagle Pass
Victor Murillo, Corpus Christi
Pablo Castro, Granger
William D. Wiser, Corpus Christi
Justin De la Rosa, Kingsville
Alfredo Jimenez, Edinburg
Fernando Aguilera, Brownsville
Thomas Everett II, Orange Grove
Daniel Flores, Zapata
Norberto Garza, Zapata
Cameron Nichols, Danbury
Tony Reyna, Laredo
This page was last updated on: January 28, 2014