Student Regent Womack sworn in at Texas A&M-Kingsville ceremony
KINGSVILLE - June 11, 2012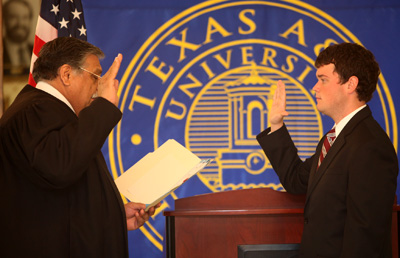 John Quinten Womack, a Texas A&M University-Kingsville accounting junior and Honors College student from Mission, was sworn in as student regent for The Texas A&M University System Friday, June 8, during a ceremony in campus. He was given the oath of office by the Honorable Juan Escobar, Kleberg County Judge. 
Womack is the seventh student to serve on the Texas A&M University System Board of Regents since the governor created the position in 2006. He replaces outgoing student regent Fernando Treviño Jr. of Del Rio, whose term expires May 31. 
The newly appointed student regent said he is most looking forward to visiting towns and schools he's never been to before and seeing the similarities of students, regardless of their location. 
Part of what drew Womack to the student regent position is hearing the voice of the student and getting that voice heard, something he first experienced working with the Student Government Association (SGA) as a College of Business Administration Senator and chair of the SGA academic and student affairs committee. Womack also is president-elect of the Honors College Student Council. 
Womack said he had a chance to speak with outgoing student regent Fernando Trevino Jr. and hear about his experiences and reflections on the appointed position. He told Womack there were many months in which he was traveling every weekend—something Womack said he is ready to do. He has been looking into independent study options with his A&M-Kingsville coursework to accommodate his new schedule. 
"I look forward to working with Mr. Womack and getting his input on important matters from the students' perspective as we continue to support our universities in their goals to provide outstanding academics without breaking students' budgets," said Chairman Richard A. Box. "I thank Mr. Treviño for his service to our board and wish him the best of luck on his future endeavors." 
"I know Mr. Womack will continue the tradition of excellence set by his predecessors, and I look forward to working with him and hearing his ideas," said John Sharp, chancellor of the A&M System. 
Gov. Perry announced a total of 10 student regents to their respective positions April 24.
-TAMUK-
This page was last updated on: June 11, 2012