University Police Department (UPD)
Welcome to UPD!
Welcome to the Texas A&M University – Kingsville (TAMUK) Police Department website. This site has been created to keep the University community – students, faculty, staff, families and visitors - informed of current law enforcement and security issues at TAMUK, as well as, information on parking rules and regulations, campus parking map and other useful information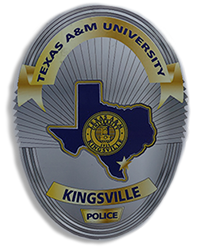 Our Commitment
The Texas A & M - Kingsville University Police Department is dedicated to providing excellent customer service and protection to the campus community. One of our goals is to maintain a safe learning and working environment for everyone on campus. Additionally, the University Police Department is committed to educating the campus community on personal protection and crime awareness.