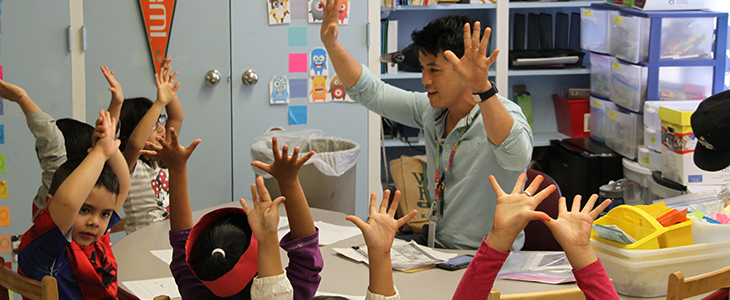 Office of Education Preparation and Certification
***COVID-19 UPDATE***
To be eligible to register for student teaching for spring 2021 ONLY a student must:
Be in good standing with the educator preparation program;
Be currently enrolled;
Have successfully completed all course work required field experiences;
Have a cumulative grade point average of at least 2.75/4.0 overall (transfer and TAMUK work) and at least a 2.75 average or above in the teaching field(s) and/or delivery systems (bilingual, special education);
Have completed all education courses (except  EDED 4613 ) 
Exceptions:

Students with financial aid may take enough courses to maintain aid funding.
For other circumstances, call the Center for Educator Preparation Services and make an appointment for advising

Submit an application for student teaching by October 30, 2020 (applications will be sent via email to those who qualify);
Have submitted the results of a tuberculin test (within 180 days of student teaching)
Please note the above requirements cannot be waived.
IN ADDITION:
School placements depend upon district availability. Districts make their own policies about allowing student teachers to work in their schools. Several districts have decided not to allow any students teachers or field supervisions on their campuses until the COVID-19 pandemic subsides. Our Educator Preparation Program staff are working diligently to find placements.
Prioritization will be given to cohort 11 (Fall 2019-Spring 2020) and 10 (Fall 2018-Spring 2019)
Students will still be responsible for all certification TExES exams (including content, PPR, Science of Teaching Reading (STR), and any other supplemental(s). All of these TExES exams must be taken and passed on or before  April 30, 2021.  This will guarantee successful program completion, graduation, and Texas teacher certification.
ATTENTION teacher candidates in  Core Subjects:  EC-6, Core Subjects: 4-8, English Language Arts and Reading: 4-8, or English Language Arts and Social Studies: 4-8!
If you are seeking certification after Jan. 1, 2021, you will be required to pass the STR exam. Below is all the information you need to know about STR.
For information about the STR exam, including related certificate requirements, the content of the exam, and webinars, and other support resources, visit the Texas Education Agency website. 
The Preparation Manual for Science of Teaching Reading (293) is now available on the Texas Educator Certification Examination Program website.
This preparation manual includes:
The STR examination framework
Approaches to answering different question types
Sample selected-response questions
In-depth rationales for correct and incorrect responses
A sample constructed response question, including the video exhibit
Sample strong and weak constructed-responses and rationales
A list of preparation resources 
Candidate assistance is available through the Contact Us page on the program website.
Texas Educator Certification Examination Program website also offers updates and comprehensive information related to exams; preparation materials; candidate registration, scheduling, and score report access; policies; and resources for EPPs.
Admission Testing:
In response to the COVID-19 pandemic, the Educator Preparation Program will waive the admission testing requirement and will not require applicants to the teacher program to take the Nelson Denny and diagnostic tests to be considered for admissions to the teacher program.  Students will be admitted through the verification of hours, course completion, and GPA requirement.  This waiver applies only to teacher candidates during the Fall 2020 and Spring 2021 semesters.
TEA Guidance on clinical teacher observations:
Last month SBEC considered and took appropriate action on the proposed Amendment to 19 TAC Chapter 228, Requirements for Educator Preparation Programs, §228.1, General Provisions in the area of clinical teacher observations for the Fall 2020 and Spring 2021 semesters.
The proposed amendment was approved and will serve to provide additional flexibility for educator preparation programs (EPPs) and candidates to fulfill educator preparation requirements related to clinical teaching, internships, and practicum when those assignments occur at least partially in virtual settings due to campus and district modifications in response to COVID-19 during the 2020–2021 academic year.  It was agreed observations will remain at the synchronous levels and they may be all virtual. 
Message from the Assistant Dean of Educator Preparation and Partnership Development
As the first Assistant Dean of Educator Preparation and Partnership Development in the history of the College of Education and Human Performance at Texas A & M University-Kingsville, I am extremely honored to serve and lead a team committed to the long, storied tradition of excellence in preparing Texas educators who proudly serve children across the state, the nation and the world! The mission of the Educator Preparation Program (EPP) is to re-imagine education and prepare tomorrow's teachers and educational leaders into accomplished educators by providing cutting edge, unique and specialized educational experiences. The educational experiences our students receive in the Educator Preparation Program at Texas A&M-Kingsville are deliberately and intentionally created to combine theory and field-based applications with experts in the field. Our students receive instruction from nationally award-winning faculty who are highly committed to the success of each student in the program. Additionally, students are placed in classroom with high-quality teachers and assigned to high-quality field supervisors, mentors, and coaches. Receiving educator preparation under our program guarantees our students will operate on high-quality supervision, specific, timely, accurate, and actionable feedback immediately enabling our students to improve their instructional practices. Our focused determination is to equip every student in our program with all the tools necessary to serve the students of today and the students of the future. In the TAMUK Educator Preparation Program, students are our top priority! We pride ourselves in providing personalized attention and creating a nurturing environment in which our students are known by name and not a number. We invite you to contact us so we can help you join our Javelina family. Nothing will derail us from our commitment to you, a future Javelina Teacher! Sincerely, Dr. Lucy Villarreal, Assistant Dean of Educator Preparation and Partnership Development
EPP Mission
The mission of the Educator Preparation Program (EPP) is to re-imagine education and prepare tomorrow's teachers to become accomplished educators who can deliver world-class education for the children of Texas by providing cutting-edge, unique, and specialized educational experiences. 
EPP VISION
The EPP vision is to strive for excellence and become a nationally recognized Educational Preparation Program  while preparing student teachers to adapt to a changing world environment.