Professional Academic Advising
---
All College of Business Administration undergraduate students are encouraged to visit with their Professional Academic Advisors at least once a semester. Academic Advisors can help you create a graduation plan to ensure timely graduation.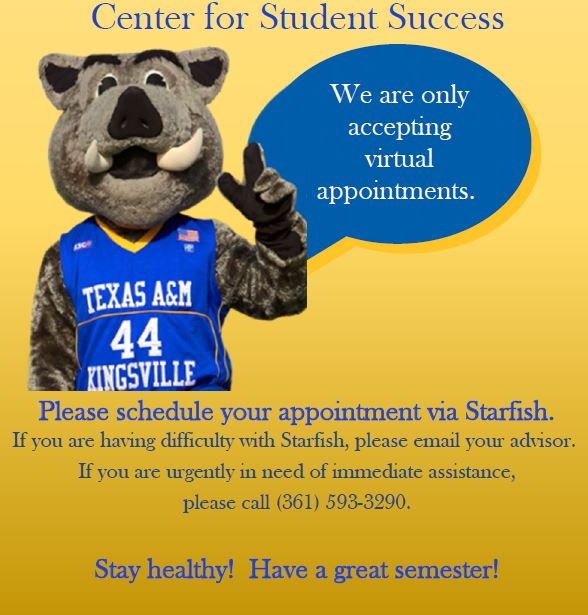 How to contact my Academic Advisor
Since we are only seeing students virtually this semester, you have several options to contact your advisor.
Call your Academic Advisor's office number
Setup an appointment via Starfish
Chat with your Academic Advisor via MS Teams
How to schedule your appointment via Starfish
Appointments can be setup via Starfish. 
1. Log into JNET
2. Click on the tab labeled Campus Resources
3. On the Right hand side, you should see an area labeled Campus Quick Links
4. Starfish should be the last link
5. Click on the menu at the top left corner, the click on the My Success Network button 
6. Select the block with Academic Advisor's name
7. Click on the Schedule Appointment button
8. Click on Professional Advising
9. Select reason for your appointment, then click Continue button
10. Select date on calendar until you find available appointment slots
11. Select your preferred date, then click Continue 
12. Add notes in the text box to provide additional information, if you wish, then click Confirm
Don't see your Academic Advisor's block?
Type your Academic Advisor's name in the search bar under My Success Network. Select your Academic Advisor's name then follow the directions above to setup your appointment.
For assistance setting up your appointment, call the CBA Advising Office at 361-593-3999.
How to access MS Teams 
You can use MS Teams to contact your Academic Advisor. Here are instructions on how to access MS Teams.
You can access MS Teams directly from your PC, through your online TAMUK Outlook account, or download the phone app MS Teams.
To access via your online Outlook account.
1. Log into JNET
2. Click on envelope tab to access your email via Outlook
3. Log into your Outlook account
4. Click on the Apps Launcher in the top left corner and select Teams. If you don't see it, click on All apps to view more apps.
5. Search for your advisor's name on the search bar.
Once you have found your advisor, click on the Chat button on the left hand side and then begin your conversation with your advisor. Here is a Quick Start Guide for the MS Teams app.