News
---
Undergraduate Neuroscience Researcher Michaela Blough Awarded the $1000 Alumni Fund for Excellence Scholarship for the College of Arts and Sciences
The Javelina Alumni Association has awarded Ms. Michaela Blough the $1000 Alumni Fund for Excellence Scholarship for the College of Arts and Sciences.  Ms. Blough is a senior Biomedical Sciences major and Psychology minor.  She has spent the summer completing the Presidential Undergraduate Research Scholars (PURPS) program, which has funded her to work in the Department of Psychology & Sociology under the mentorship of Dr. Dana Byrd conducting her interdisciplinary neuroscience research using electroencephalogram (EEG, brain waves) to study the relationship between cardiovascular health and neurocognitive fitness. The Javelina Alumni Association and College of Arts and Sciences awarded Ms. Blough the Alumni Fund for Excellence Scholarship not only because of her academic achievements but also because of her strong and sincere Javelina pride. Ms. Blough plans to continue her education after graduating from Texas A&M University – Kingsville by going on to earn her Ph.D. in Occupational Therapy.
Congrats Fall 2019 Title V (I-CARE) Research Program Grant Recipients: 
Dr. Abiola Dipeolu (Psych 2301); Dr. Brenda Hannon (Psych 3304); and Dr. Timothy Oblad (HSCI 2320). Only 17 faculty members across campus received funding for this undergraduate research opportunity and three faculty from our department were among them. Undergraduates involved in early research projects benefit greatly from hands-on experience and are better prepared for the rigors of graduate school. Further, such activities increase rates of retention among departments and allow students and faculty to collaborate together much earlier in their studies.
Javelina Preview Days 2018 - 
March 24, 2018 
TAMUK's MOST WANTED!
Great turn out to the College of Arts and Sciences Javelina Preview Days. We had 32 visitors to our booth and they really enjoyed the darts!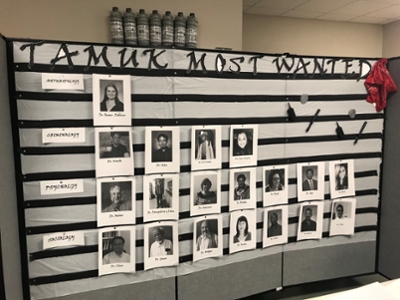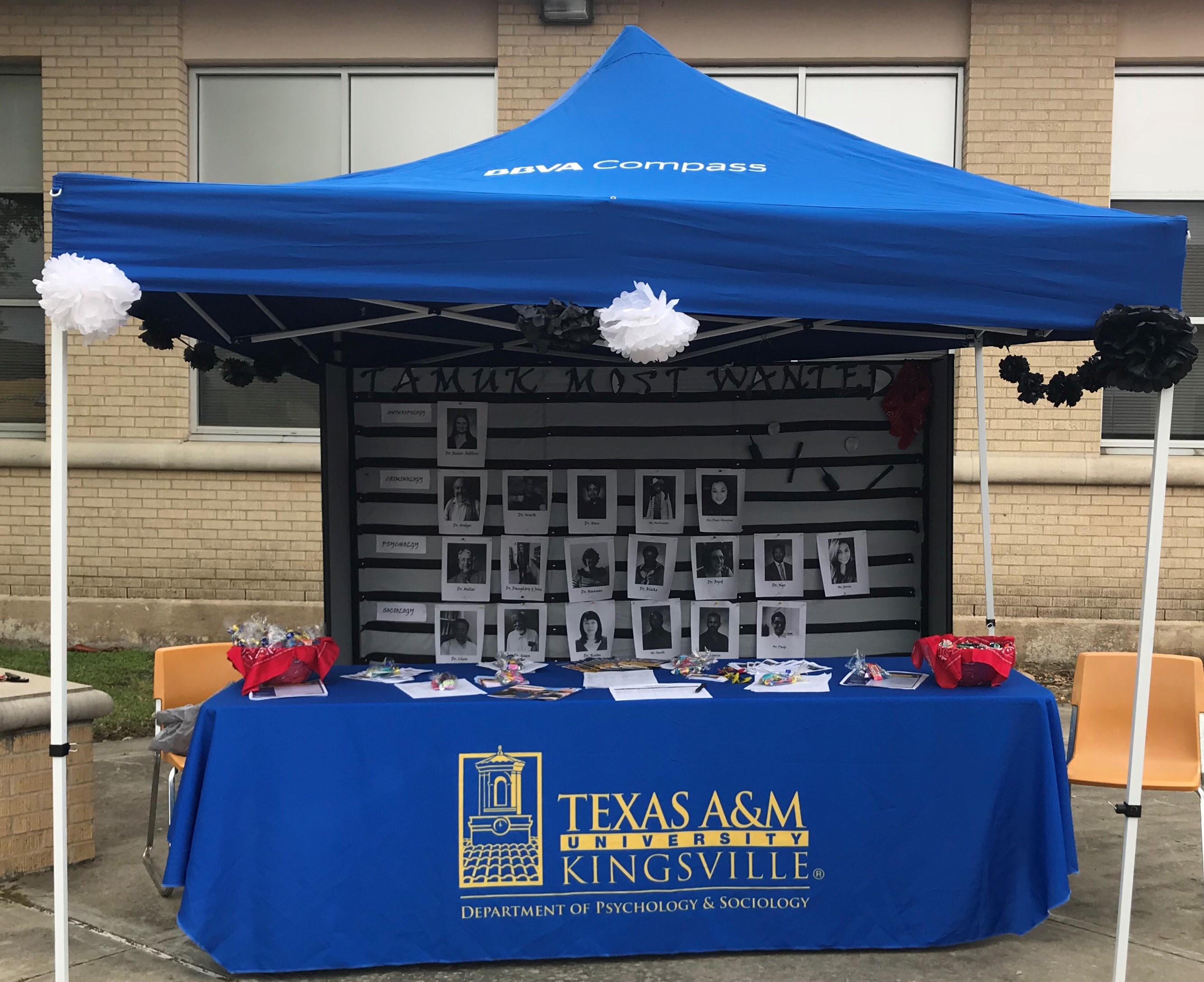 Anthropology Club site visit, February 2018
Anthropology Club had a great outing excavating at a 19th century early settler homestead and trading post in San Patricio at the end of February. We had a great turnout, with over 20 students from both TAMU-K and Del Mar College. The excavation was conducted in collaboration with the Coastal Bend Archeological Society. We found an extensive material culture record, including many 19th century artifacts such as a bone button, a brass button, bottle glass, square cut nails, and a lead bar using for making ammunition, among other items. The students gained valuable experiential learning skills in archaeological excavation, screening, measuring, and recording. We plan to return to the site in future for further investigation.