John E. Conner Museum
Located on the campus of Texas A&M University-Kingsville, the John E. Conner Museum has a history as old as the university itself. The First Professor of History, John Edwin Conner (1883-1989), began his collection in 1925 and the John E. Conner Museum was organized four years later. Since 1976, the Museum has been located in Loftin Hall, the original student dining hall. With both permanent and temporary exhibits, the Conner Museum provides a glimpse into the intriguing story of South Texas. More Info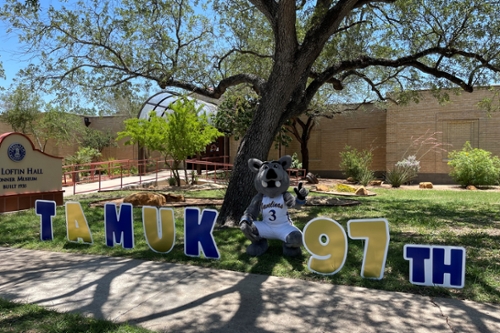 Hours of Operation
(361) 593-2810 | connermuseum@tamuk.edu  
Available for classroom learning experiences and meetings by appointment.
Sunday & Monday | Closed 
Tuesday - Wednesday |  2 p.m. - 4 p.m. 
Thursday - Saturday | 10 a.m. - 4 p.m. 
Museum is open 10 a.m. - 4 p.m. on December 23 and 27-29.
We will be closed for the holidays on December 24-26 and December 30-January 2.
John E. Conner Museum Mission Statement
The purposes of this organization is to collect, preserve, and exhibit historical materials relating to the geology, paleontology, archaeology, anthropology, ethnology, the general sciences, literature and art of South Texas and the areas in the Southwest related thereto by such materials; to encourage and foster historical research and study; to catalog and exhibit its acquisitions; to publish and disseminate information about its acquisitions; to preserve the culture of the region; to do any and all things desirable and necessary to enlist the interest and support of the people and institutions of the area in its historical background and its cultural ideals. The enumeration of these purposes shall not be exclusive of any matters of materials properly within the purview of a scientific, historical and cultural organization. 
Ethics Statement
The John E. Conner Museum adheres to the Code of Ethics for Museums as adopted by the American Alliance of Museums in 1991 and amended in 2000. To read the Code of Ethics, click  Here.