STEP 2 USDA
---
This USDA funded project builds on a successful, established USDA-HSI collaboration between the University of Texas-Rio Grande Valley, Texas A&M University-Kingsville, South Texas College, and Texas State Technical College providing a learner-centered environment for enhanced research training.
STEP 2 USDA Research Success will transition South Texas regional students from the 2-year Associate Degree institutions (STC & TSTC) to a 4-year Bachelor of Science degree program at either UTRGV or TAMUK, thereby producing college graduates that are prepared for science-based careers with the USDA and/or to earn advanced degrees.  The program is also designed to retain and promote students from 2- and 4-year undergraduate tracks to M.S. and Ph.D. level training, thus providing advanced training for success in USDA careers and the biological and agricultural sciences.
Students---STEP 2 USDA Research Success
Student participation in summer internships will provide students with mentored undergraduate and graduate experiential research, providing critical preparation of students for successful professional careers.
Students who participate in this program will be given experiential learning and skills necessary to make sound decisions concerning future employment or continued collegiate education in the areas of the agriculture and natural resources.  The students will also be given a competitive edge necessary to be more adequately prepared for career positions.
The main purpose of this multi-HSI-institutional regional collaborative project is to increase the number of South Texas students obtaining degrees from two 2-year Associate degree granting institutions transitioning to 4-year Bachelor of Science degrees in the biological and agricultural sciences from the University of Texas-Pan American and Texas A&M University-Kingsville.  Faculty at UTPA and TAMUK will provide undergraduate training through a series of targeted summer short-courses, internships, and research projects in the soil, animal, and natural resource sciences.
Project Goals:
Educate students at 2-year Associate degree institutions (STC & TSTC) in the agriculture and food related science for preparation to transition to 4-year B.S. degree institution (UTPA & TAMUK) through 'summer camp' training short-courses in soil and plant science, animal and meat science, entomology and biotechnology, or tour visits to USDA agencies.
Develop "hands-on" research training opportunities through internships with UTPA, TAMUK, USDA-APHIS, -NRCS, -AMS, or -ARS and opportunities for research experience under a faculty mentor.
Enhance exposure of South Texas students to agriculturally-based science professional societies through presentations at regional and national meetings.
Increase the recruitment of an underserved population of students from the Lower Rio Grande Valley school systems to a 4-year agricultural science-base university (UTPA or TAMUK) such that students are able to enter directly into graduate schools or the USDA workforce upon graduation.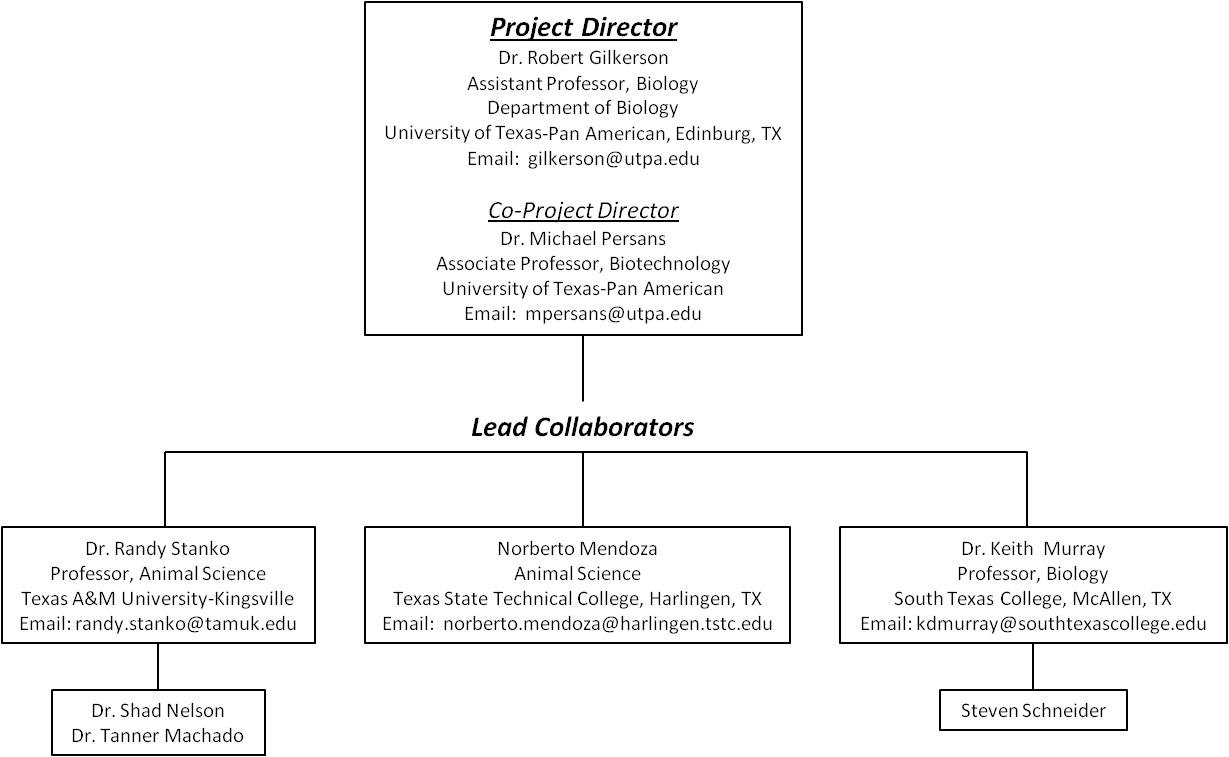 Summer 2019
Student Name---Career Experience Location
Mark Belew---TAMUK-Natural Toxins Research Center
Robin Cheek---ARS-Clay Center, NE
Andrea Companian---ARS-Clay Center, NE
Jason Loghry---USFWS Alaska
Gisel Mireles---ARS-Beltsville, MD
Rory Vineyard---TAMUK
Calin Wong-Jaramillo---ARS-Beltsville, MD
---
Summer 2018
Student Name---Career Experience Location
Miguel Cervantes---ARS-Clay Center, NE
Su-yin Davison---Caracal, Botswana
Cody Hay---APHIS-Texas Wildlife Services
Recca Heiner---Caracal, Botswana
Richard Kaiser---Caracal, Botswana
Nina Lazaro---TAMUK
Valerie Ruiz---ARS-Beltsville, MD
Miranda Tellez---ARS-Fort Collins, CO
---
Summer 2017
Student Name---Career Experience Location
Jorge Chavarria---ARS-Beltsville, MD
Arlene Cortez---USDA-Fort Collins, CO
Dominique Hernandez---ARS-Beltsville, MD
Kole Jean---FSA-Faytteville, TN
Miriam Rico---ARS-Beltsville, MD
---
Summer 2016
Student Name---Career Experience Location
Emma Broussard---ARS-Beltsville, MD
Karen Flores---ARS-Beltsville, MD
Anibal Garcia---AgriLife-Weslaco, TX
Juan Martinez---University of the Virgin Islands
George Thomas---AgriLife-Corpus Christi, TX
Upcoming Events
Summer Career Experience (Internship) Presentations open to public (September 24, 2019; 3:00-6:00pm; Wildlife Center)
Past Events
Summer Career Experience (Internship) Presentations open to public (September 19, 2018; 3:00-6:00pm; Wildlife Center)
Summer Career Experience (Internship) Presentations open to public (September 20, 2017; 5:00-7:30pm; Kleberg Ag Rm 102)