HOMECOMING 2023  -  OCTOBER 13  -  DISTINGUISHED ALUMNI AWARDS 
Friday evening of Javelina Homecoming 2023 we will induct our newest class of Distinguished Alumni and Rising Star honorees.
2023 DISTINGUISHED ALUMNI HONOREES:
Anne Grady, Class of 1997
Ret. U.S. Army Col. Henry Hodge, Class of 1968
Debbie Lee Winslow, Class of 1983
John Bickham, Class of 1973
Ret. U.S. Army Col. Richard Waterhouse, Class of 1975
RISING STAR HONOREES:
Santia Deck, Class of 2014
Sydney Hernandez, Class of 2015
ABOUT THE AWARD RECIPIENTS: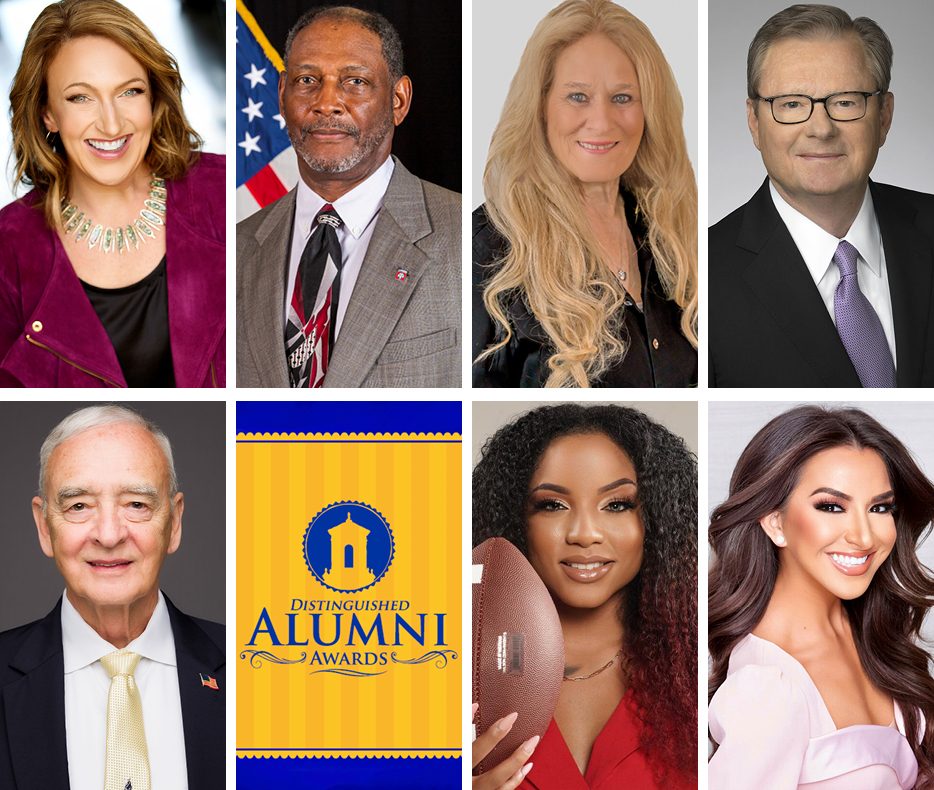 Anne Grady is a two-time TEDx speaker, bestselling author, and leading expert in resilience, emotional intelligence and leadership. She has contributed to Harvard Business Review, Entrepreneur, Fast Company Inc. Magazine, FOX Business and many more. 
As a motivational speaker, audiences love her raw honesty, edgy humor, authenticity and insight through her sharing of personal stores, cutting edge research-based content, and implementation tools. 
In Grady's most recent book, "Mind Over Moment: Harness the Power of Resilience," she shares her science-based approach to help you become aware of your thoughts, feelings and behaviors in the moment in order to break out of reactivity and live your life on purpose.
Ret. U.S. Army Col. Henry Hodge is a Kingsville native who was commissioned an armor second lieutenant in the U.S. Army upon his graduation from Texas A&I University. He served in the military for 30 years, during which he served in various leadership positions including Deputy Director of Equal Opportunity Policy for the Department of Defense; Chief of Staff at the U.S. Army Armor Center at Fort Knox; was selected by the Army Chief of Staff to be the representative to the Royal College of Defense Studies in England; and Chief, Joint Doctrine Division, where he developed doctrine for the Chairman of the Joiny Chiefs of Staff on issues of major significance to U.S. National Security. 
His awards include Legion of Merit, Bronze Star Medal, Defense Meritorious Service Medal, four Meritorious Service Medals, two Army Commendation Medals, Army Achievement Medal, Office of the Secretary of Defense Identification Badge, Army Staff Identification Badge and Senior Parachutist Badge.
Upon his retirement from the U.S. Army, his civilian work was still connected to the military. From 1998-2000, he worked with the Department of Defense Commission as a Military Advisor. From 2000-2010, he joined Northrop Grumman as a contractor with supporting the Department of Defense, Health Affairs, Force Health Protection and Readiness Program.
Debbie Lee Winslow retired after an almost 40-year career in education, 21 years of which she served directly in the classroom as a teacher. Other roles she served as during her career included being the Assistant Principal at Mercedes ISD, and Dean of Instruction, Principal at La Villa ISD and Career and Technical Education Director at Mercedes ISD.
Winslow has earned numerous awards and accolades due to her positive and widespread impact in education, including Family Consumer Science Teacher of the Year in Texas, State and National Spirit Advisor, State and National Master Advisor of the Year, was inducted into the Texas Hall of Fame for Future Homemakers of America, Rio Grande Valley LEAD Administrator of the Year and Region 1 ESC Career and Technical Education Director of the Year.
She has also greatly impacted Javelina Nation throughout her lifetime, most notably serving on the Javelina Alumni Association (JAA) for a total of seven years – three of which she proudly led the association as its President. During her tenure, she represented the JAA at nine commencement ceremonies and two presidential inaugurations at Texas A&M University-Kingsville. Winslow is also on the Texas A&M University-Kingsville Rodeo Advisory Board and a member of the Texas A&M University-Kingsville President's Circle in recognition of her loyal support of and generosity toward the university.
John Bickham is known as one of the most influential executives in the cable industry. He began his cable career in 1986 after 13 years at Houston Industries, which created KBLCOM, which later partnered with ATC to purchase part of Group W Cable in 1986. KBLCOM later purchased Rogers Cable where Bickham eventually became its President and COO.
Houston Industries sold KBLCOM to Time Warner Cable in 1995, where Bickham joined its corporate office in 1998 as its Executive Vice President. In 2004, Bickham left Time Warner Cable to join Cablevision, where he served a pivotal role in the strategy and development of Cablevision's triple-play offer. His leadership as President of Cable and Communications led the company to unprecedented customer growth and success across their video, voice and internet platforms.
In 2012, Bickham was hired as the Chief Operating Officer of Charter, where he transitioned the company from bankruptcy to the fastest growing cable company in the nation. In 2016, Time Warner Cable and Bright House Networks combined and Bickham was named President of the company. In 2022, Bickham was named recipient of the Cable TV Pioneers Award.
Richard Waterhouse served as the ROTC Corps Commander as a student at Texas A&I University and commissioned into the U.S. Army upon his graduation. He held a distinguished military career, earning many awards, to include the Legion of Merit (OLC), Bronze Star Medal, Valor (2OLC), Army Commendation Medal, Valor (2OLC), Purple Heart (OLC), Combat Infantry Badge and Master Parachutist Badge.
He was inducted into the Texas A&M University-Kingsville ROTC Hall of Fame in 2001. After retiring at the rank of Colonel in the U.S. Army, Waterhouse began a successful career in education. In 2008, he was named Principal of Premont Central Elementary. He then became the Assistant Principal of Robstown High School until he was promoted as Principal. In 2013, Col. Waterhouse joined George West High School as its Principal until his election as Superintendent for Skidmore-Tynan ISD in 2020, where he still currently serves.
The Rising Star Award was established in 2003 and recognizes alumni within 15 years of their graduation from Texas A&M University-Kingsville who have achieved professional success and brought special honor to the university.
Santia Deck, is a Professional Female Football Player and Social Media Influencer with over 700,000 loyal and engaged followers. A former track and field collegiate athlete, Santia recently made history by becoming the highest-paid woman to play professional football - signing a multi-million dollar deal with the WFLA. Santia is a published author, a fitness model, TV personality, Social Media Consultant, Public Speaker, and a TV host. She also maintains her fitness trainer certification and offers a variety of services to celebrity clients and her wide-ranging community of online supporters.

Most recently, Santia became a successful start-up CEO with the creation of TRONUS, an innovative footwear brand that's been experiencing impressive growth and celebrity praise since launching in 2020.
Sydney Hernandez is a three-time EMMY Nominated and Associated Press Award Winning evening news anchor for CBS 4 News in the Rio Grande Valley. After graduating from Texas A&M-Kingsville, Hernandez was named Texas A&M's Outstanding Alumni of The Year. She currently serves as evening news anchor for CBS 4 in the Rio Grande Valley, where she has interviewed former President Donald Trump, Texas Gov. Greg Abbott, among other political figures.

She is the founder of Sydney's Soldiers, a non-profit organization that packs and ships care packages to service members across the country and internationally to boost morale and decrease suicide rates among our military. As CEO and President of The Sydney Hernandez Foundation, Hernandez mentors young journalists aspiring to work in the media industry and provides a bi-annual scholarship for college students looking to pursue a career in journalism. Sydney was recently crowned Miss Texas International in Arlington, Texas, where she represented the Rio Grande Valley.
Our honorees of the 2023 Distinguished Alumni Awards will be recognized at a ceremony during Homecoming Week at Texas A&M-Kingsville Oct. 13-14, 2023. As in past years, a dinner and program honoring these individuals will be open to the public. These plans are subject to change in accordance with any health or public gathering restrictions. More information regarding the ceremony will be officially announced early Fall. 
ABOUT THE ALUMNI AWARDS
Javelina alumni and faculty make amazing things happen in the world. Their accomplishments significantly benefit both society and our campus, by inspiring others and providing insight and creativity. Their actions communicate the dynamic excellence of being a Javelina and the importance of service as a component of our philosophy. To celebrate the accomplishments of our alumni and faculty, the Javelina Alumni Association sponsors awards for distinguished alumni, research and teaching.
Distinguished Alumni Award 
The Distinguished Alumni Award is presented to alumni who have demonstrated long-time and successful commitment to their careers and communities and have brought special honor to the university because of their accomplishments.
Rising Star Award
Rising Star Award recognizes graduates of the university who have experienced professional success and who are within 15 years of their graduation from Texas A&M University - Kingsville.