KINGSVILLE (August 12, 2022) — The Texas tortoise (Gopherus berlandieri) is the smallest tortoise species in North America. As a species, the Texas tortoise is considered threatened. Research scientists and graduate students at Texas A&M University-Kingsville are working to help the small tortoises by translocating about 60 from their home in the Rio Grande Valley.
To help with the project, Next Decade LNG (liquefied natural gas) from Brownsville, has presented the university with a $100,000 contribution. Some of the translocated tortoises have been moved from sites that will be used by Next Decade in the Valley.
"Universities thrive on donations. It's one arm of our funding cycle, but it also provides opportunities that we traditionally don't have the mechanism, through state appropriations or other means, to be able to provide more opportunities for research and further the discipline or the specific area of study," said Dr. Robert Vela Jr., president of Texas A&M-Kingsville.
"One of the aspects of being able to do a project like this is using radio telemetry to locate them and that can be fairly expensive technology. The funding will be used to buy the telemetry transmitters," said Dr. Scott Henke, Regents Professor in the rangeland and wildlife science department. "It does take some effort to find them. They are really good at hide and seek."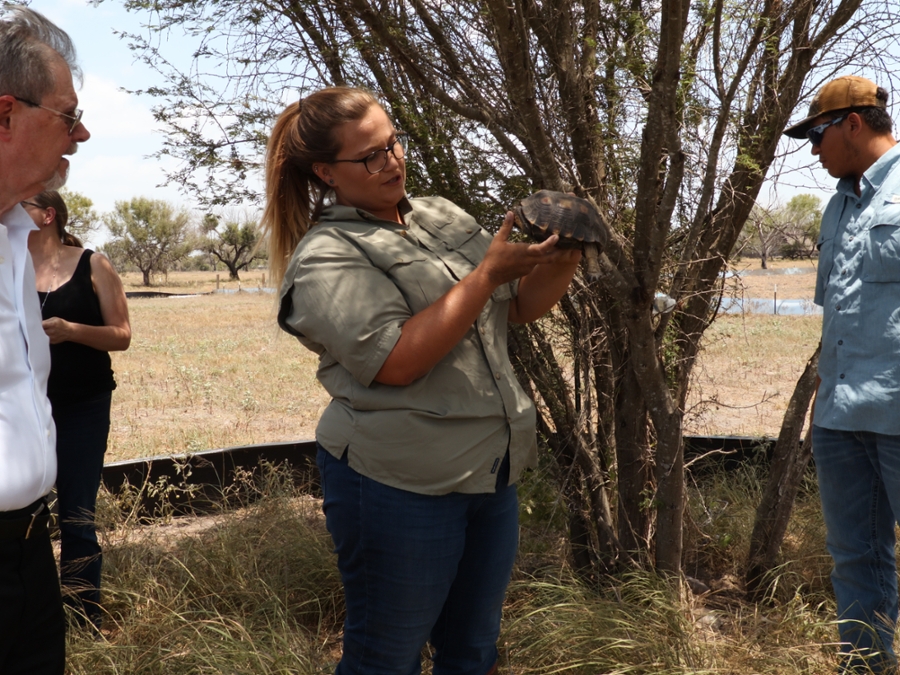 Christin Moeller, right, with David Keane, left.
---
Graduate student Christin Moeller agreed. "They are the hide and seek champs. They are hard to find. You have to get down to the ground to find them. They are very sociable. You pick them up and they come out of their shell. They are very friendly and very active." 
"More importantly, a lot of these donations not only allow us to expand and grow but also to give our students opportunities to latch on to a professor to be able to do some of that research and work right alongside some top researchers in the country. So, we're able to cultivate and ultimately graduate the next generation of researchers," Vela added. 
The tortoises are settling into their new habitat, a three-hectare parcel of land owned by the university called South Pasture. About 52 of the tortoises have been successfully translocated, the biggest being about 4.5 pounds.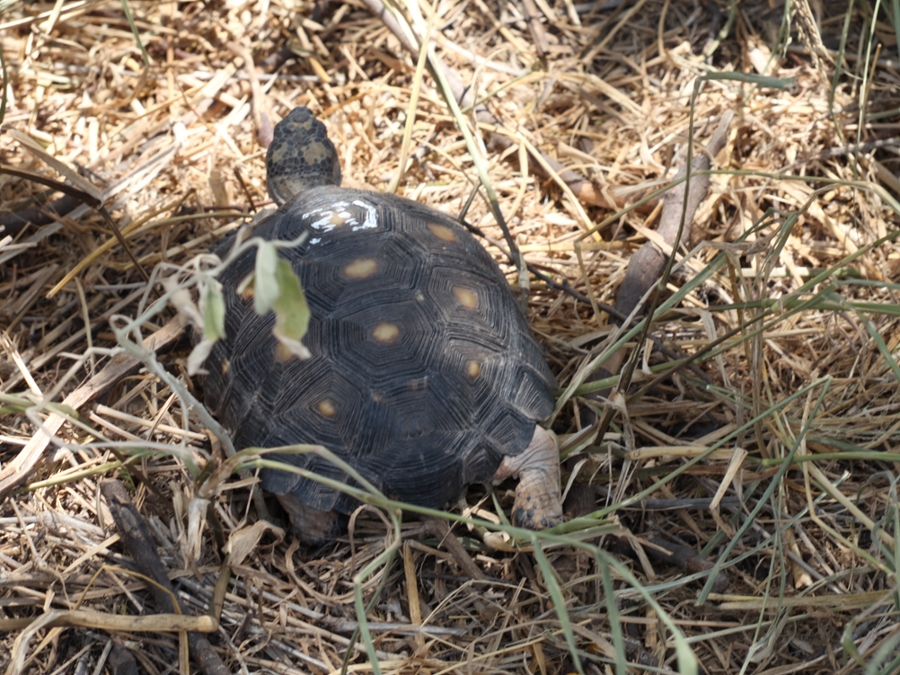 Texas tortoise
---
"Texas tortoises have never been a part of a translocation project. It is unknown how well they will handle translocation," Henke said. "That's what this study will determine, just how well they can handle being translocated. If it is successful, then when a tortoise habitat is being renovated and modified, and you find that tortoises handle translocation well, then you can pick them up and move them to another site and know they can do just fine." 
Henke also said the project will be deemed a success when the tortoises reproduce. The Texas tortoise normally lays three to four eggs at a time in a shallow burrow which they then cover up.
"This project is seeking to translocate tortoises from our planned facility site in the Port of Brownsville to the Texas A&M-Kingsville area. This means we will be able to tag and mark them and watch what they do and how they migrate and what their patterns are," said David Keane, senior vice president of Next Decade. 
"This is an important project for Next Decade and a continuation of a project we began in 2019. When we build this facility, we want to make sure we are protecting the wildlife that's located there," he added. "In addition, to what we are doing to reduce our greenhouse gas footprint I look at this as being a holistically safe project to be able to build on the gulf coast."
Next Decade is developing the Rio Grande LNG project at the Port of Brownsville and they will be adding a carbon capture and sequestration project that will remove about five million tons of greenhouse gasses annually. 
-TAMUK-