Internships build bridge between students, real world through practical research
KINGSVILLE - March 12, 2013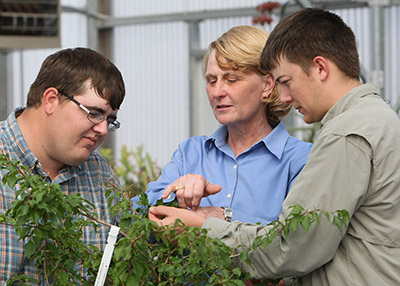 A grant program in the Dick and Mary Lewis Kleberg College of Agriculture, Natural Resources and Human Sciences is only in its second year, but already showing results. Two students from the Step Up to USDA (United States Department of Agriculture) Career Success program at Texas A&M University-Kingsville presented posters at the recent Belt Wide Cotton Conference in San Antonio. The posters represented the research they started as summer interns with Texas A&M AgriLife Extension Service and continued when they returned to classes in the fall. 
The internships and research showed the students the bigger picture in agriculture careers, prompting both to want to continue their education beyond the bachelor's degree. Both worked in the integrated pest management field with an AgriLife agent and did projects involving cotton.
Tyler Mays, a senior plant and soil science major from Sweeny, worked for the AgriLife agent in Wheaton County. He presented his paper Evaluation of Bacillus thuringiensis Technology against Helicoverpa Populations in Cotton Varieties Grown in the Upper Coastal Bend of Texas.
The gene is used to protect the cotton plant against cotton boll worm and other agents that kill the plant from the inside out.
"This internship changed the path of my career from what I wanted to do," Mays said. "I thought I would get my bachelors' degree and work for a seed company or something. Now I know I want to get my master's degree and be an integrated pest management agent."
Blake Young is a plant and soil science major from La Vernia. He worked in Calhoun County this past summer. The poster he presented at the cotton conference was Evaluation of Economic Thresholds for Boll Feeding Bugs in Cotton.
"During my internship I learned research skills and I learned how I can take the experience I had and put it in the real world," he said. "I was thinking about research as a job field, but now I know that is what I want to do. I want to continue on to get my master's degree and my doctorate after that so I can continue with my research."
"It gave them insight," said Dr. Greta Schuster, associate professor in the agriculture, agribusiness and environmental science department. "They not only received job skills through this internship, but they learned how to apply what they have learned in the real world."
The Step Up to the USDA Career Success program is geared to engage students as volunteer interns within the USDA. When there are not enough locations for students to work, other agriculture-related partners like AgriLife accept the students.
The funding source for the grant is the USDA's National Institute of Food and Agriculture and it is renewable for up to four years. Each year of the grant, $1 million is divided, with Texas A&M-Kingsville receiving nearly $600,000 per year and about $400,000 divided by University of Texas-Pan American, South Texas College, Texas State Technical College and Del Mar College, said Dr. Shad Nelson, associate professor and chair of the agriculture, agribusiness and environmental science department.
"This program benefits not only Texas A&M-Kingsville students, but South Texas students to provide financial support for them to gain career experience in the agriculture and biology-related disciplines," he said. "A minimum of 50 undergraduates plus eight master's and two doctoral students are funded annually through this program.
"It also is a benefit to the four-year institutions as it builds a bridge between a two-year community college and the four-year universities to bring students in after they complete their associate's degree," Nelson added.
For more information about the program, call the agriculture, agribusiness and environmental science department at 361-593-3719.
-TAMUK-
This page was last updated on: March 12, 2013